WARRANT STREAM NEW SONG, "ONLY BROKEN HEART"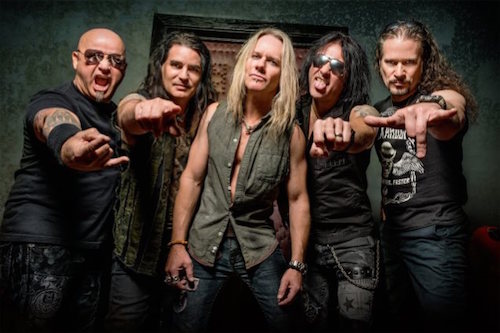 As previously reported, Warrant will release their new album, Louder Harder Faster, on May 12th. The band is currently streaming the song, Only Broken Heart, which can be heard below.
With a line-up featuring original members, Erik Turner, Jerry Dixon, Joey Allen, and Steven Sweet along with singer Robert Mason (Lynch Mob, Cry of Love), Warrant are now stronger than ever. Mason's vocals remain a breath of fresh air and his swagger on the songs gives new life and a bright future to the band. With production handled by Foreigner and ex-Dokken bass player Jeff Pilson (Last In Line, Starship, Adler's Appetite, etc.), Warrant is sounding tighter and playing better than ever before. Louder Harder Faster, true to the band's roots, is full of rockers with some classic ballads thrown in and will surely send their faithful fans into a frenzy.
Erik Turner says, "You can hear and feel the emotions of the last 25 plus years of being in this band poured into LHF. The fun and the frustrations, the pleasure and the pain… a whole lot of blood, sweat, tears and beers went into the making of this album. Love it or hate it, its the real f'ckn deal, 100% pure melodic hard rock. Hand crafted by five musicians who dedicated their lives to music when they were just little kids with big dreams."
Read more about the release, here.
Louder Harder Faster tracklisting:
1. Louder Harder Faster
2. Devil Dancer
3. Perfect
4. Only Broken Heart
5. U In My Life
6. Music Man
7. Faded
8. New Rebellion
9. Big Sandy
10. Choose Your Fate
11. Let It Go
12. I Think I'll Just Stay Here and Drink (Bonus Track available on CD ONLY)
Warrant tour dates:
Mar 10 Tobin Center for the Performing Arts, San Antonio, TX
Mar 16 The Token Lounge, Westland, MI
Mar 17 The Corbin Arena, Corbin, KY
Mar 18 Watseka Theater, Watseka, IL
Mar 24 Akron Civic Theater, Akron, OH
Mar 25 Rock the Arena II @ Savage Arena, Toledo, OH
Mar 31 Medina Entertainment Center, Medina, MN
Apr 1 PBR event / Sioux Falls Arena, Sioux Falls, SD
Thaw Out Days After-Party
Apr 22 Tacoma Dome PBR Event
Apr 27 Hampton Beach Casino, Hampton Beach, NH
Apr 28 Aura, Portland, ME
Apr 29 M3 Merriweather Post Pavilion Columbia, MD
May 12 PBR event / Rock Bar @ Miracle Mile Shops, Las Vegas, NV
May 19 The Rose, Pasadena, CA
May 20 The Canyon, Agoura Hills, CA
Sep 16 Shrinedom @ Creek Hill Barn, Irasburg, VT
Oct 28 Rock N Skull 2017 @ Avantis Dome – Pekin,IL
Nov 1 PBR Event T-Mobile Arena, Toshiba Plaza Stage, Las Vegas, NV
For more information, and to purchase tickets, visit warrantrocks.com/tour.