GUITAR CENTER AND DIRECTV FEATURE ICONIC GUITARIST SLASH IN ORIGINAL TWO-PART DOCUMENTARY AND LIVE CONCERT EVENT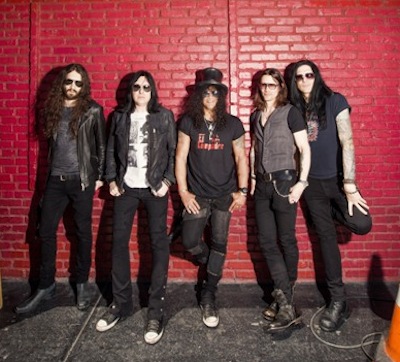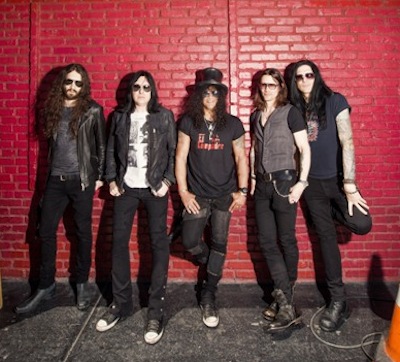 Guitar Center and DirectTV announced a two-part documentary and live concert event examining the life and music of Grammy Award-winning guitarist Slash. With a world tour on the horizon and his new album World On Fire debuting in the top ten and garnering worldwide critical acclaim, the iconic guitarist remains one of the leading influences in music.
In a 90-minute live concert event – Slash Featuring Myles Kennedy and The Conspirators Live from the Sunset Strip –viewers get a front row seat to Slash's recent show at one of Hollywood's most iconic venues, The Roxy, as part of Guitar Center's 50th Anniversary celebration. Filmed in stunning 4k and 5.1 surround sound, the special features songs from SLASH's recently released album World on Fire as well as classic Guns'N'Roses and Velvet Revolver hits. The concert brings a rock legend back to the stages where his career began: The Sunset Strip.
The concert special leads into a 90-minute documentary directed by Martyn Atkins that takes viewers into the studio with the rock legend, combining new and archival footage with interviews from the artists and colleagues that influenced his incredible career. Tracing the rock icon's incredible journey, SLASH Raised on the Sunset Strip covers his childhood in both England and California's Laurel Canyon, his discovery of the guitar and arrival on the Sunset Strip, his meteoric rise with Guns'N'Roses, the evolution of Velvet Revolver, Slash's solo career and his current band featuring Myles Kennedy and The Conspirators.
Slash speaks in intricate detail about his drive and approach to the craft, successes, challenges, influences and collaborations with multiple artists. Interviews with rock legends including Dave Grohl, Alice Cooper, Joe Perry, Nikki Six, Duff McKagan, Steven Alder, Matt Sorum, Jerry Cantrell, Lemmy, Dave Mustaine, Marc Canter, Alan Niven, SLASH's wife Perla Hudson and more reveal the stories of how it all came to be and, more importantly, where he's heading.
Watch the trailer below.
Air Date Schedule:
November 7th at 9pm Slash Featuring Myles Kennedy and The Conspirators Live from the Sunset Strip
November 13th at 10pm Slash Raised on the Sunset Strip