SLASH FEATURING MYLES KENNEDY AND THE CONSPIRATORS TO RELEASE "WORLD ON FIRE," NEW ALBUM OUT SEPTEMBER 16TH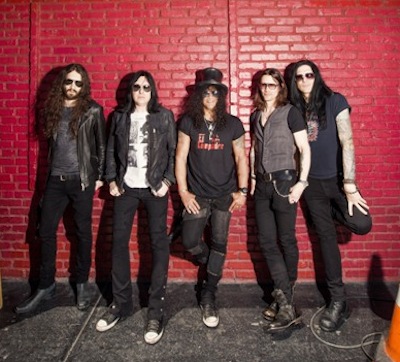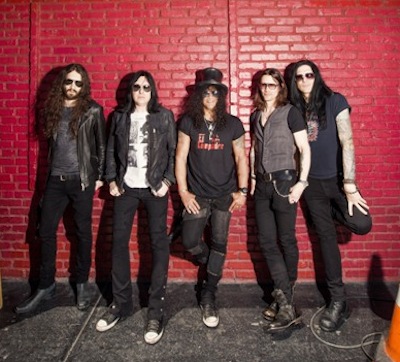 Slash and his bandmates Myles Kennedy and The Conspirators will release their new album World On Fire on September 16th via Slash's own label Dik Hayd International distributed through Caroline. The group revealed the cover artwork for World On Fire designed by American contemporary artist Ron English today. Featuring the blazing title track as the first single—arriving at radio Friday, June 13th—the disc marks Slash's third solo album and second one with his band featuring Myles Kennedy (vocals), Brent Fitz (drums) and Todd Kerns (bass).
For World On Fire, Slash and his band tapped Michael "Elvis" Baskette (Alter Bridge, Falling In Reverse, Incubus) to produce. Among the 17 songs is an instrumental–a powerful new turn for the band. World On Fire is the follow-up to 2012's Apocalyptic Love which debuted at #4 on the Billboard Top 200 chart and earned Slash two No. 1 U.S. rock radio hits–his first-ever solo–with You're A Lie and Standing In The Sun. Slash officially began recording as a solo artist with his self-titled 2010 debut album which employed a different vocalist on each track of his first album including Ozzy Osbourne, Fergie and Myles Kennedy among others.
Following are song titles for World On Fire:
World on Fire
Shadow Life
Automatic Overdrive
Wicked Stone
30 Years to Life
Bent to Fly
Stone Blind
Too Far Gone
Beneath the Savage Sun
Withered Delilah
Battleground
Dirty Girl
Iris of the Storm
Avalon
The Dissident
Safari Inn
The Unholy
Slash and Myles Kennedy and The Conspirators have announced additional solo dates in between their summer tour with Aerosmith. The group will preview new songs for fans on the trek which kicks off Thursday, July 10th at Nikon at Jones Beach Theatre in Wantagh, NY (see the full itinerary below). Special ticket packages include: amazing seats (Level 1 tickets), an exclusive autographed Slash lithograph, a digital download of the new Slash album World On Fire and a merchandise voucher worth $50, redeemable in the Slash Exclusive Online Store. For all packages, visit slashonline.com.
Check out the exclusive behind-the-scenes documentary Slash's Real To Reel at slashonline.com. The innovative online series documented the entire in-studio recording process from the first day of recording to the last; the multi-segment fly-on-the wall series follows Slash and The Conspirators from pre-production at NRG Studios in Los Angeles to Studio Barbarossa in Florida, as they write, play, create and record WORLD ON FIRE from start to finish.
Slash and Myles Kennedy talk about the album and the forthcoming tour dates in this Q&A:
World On Fire marks your second album with your band Myles Kennedy (vocals), Brent Fitz (drums) and Todd Kerns (bass). How do you feel the dynamic between the four of you has evolved?
Slash: We had a natural chemistry from the very beginning. The longer we have been together the more it has blossomed. And because of all the touring and the different situations we have been thrown into as a band and as players, we have all subconsciously learned from that. It shows up when we're writing and when we're recording. It's sort of an unsaid thing, but I can sense it. It's a natural evolution for a bunch of musicians in a band together.
Myles: Over the last four years we have definitely evolved into a band. Utilizing Todd's vocal prowess and Brent's ability as a multi-instrumentalist definitely highlights what the Conspirators are capable of. I feel like it adds to what Slash and I do as songwriters. Not to mention they are both a big part of the arrangement process. Todd even brought in a cool progression that we used for the verses in Shadow Life and he added an great intro to The Dissident which is really fun.
Q: What are the biggest differences between the last album Apocalyptic Love and the new album World On Fire?
Slash: The biggest difference is that the band has also has naturally evolved with so much touring and all of these different things. There's a difference in musicianship that shows on this record and the songwriting skills especially.
The other difference is the fact that we recorded both albums live, but we kept the first one (Apocalyptic Love) just live. That was it. There was no over-dubs or layering or any kind of studio techniques. With World On Fire I wanted to do guitar harmonies and double up parts and just create sounds. It's a little more produced record in that sense.
Myles: We didn't spend as much time fine-tuning arrangements as a unit during the Apocalyptic sessions. I think that's part of the reason this record sounds as cohesive as it does. Slash spent a lot of time with Todd and Brent working on arrangements while I was on tour with Alter Bridge late last year. When I got off the road, I met up with them in LA so they could get a feel for how the songs felt with vocals.
Another difference is that Slash played all the guitars on World On Fire. During the Apocalyptic sessions I sang and played guitar which was fun, but it definitely cut into the amount of time I had to focus on lyrics, etc. Not playing guitar on World On Fire gave me additional time to fine-tune lyrics and melodies which improved the songs in the end. I'm very happy with how it turned out.
Q: For World On Fire you teamed up with producer Michael "Elvis" Baskette (Alter Bridge, Falling In Reverse, Incubus). What do you feel he brought to the table?
Slash: Elvis is very conscious about guitar and guitar tones as well as drums, bass and vocals. For me, it is important to work with somebody who is very dialed-into guitar sounds. In this particular day and age it's a rarity to find someone who really understands guitar sounds. Elvis is an extremely hard-worker. I consider myself a hard worker as well as Myles. He was somebody that, over the course of making the record, gave me an even more of an extra push in some moments. So he brought out the best in me as well as Myles and the drums and everything. He was a pleasure to work with.
Myles: Elvis is brilliant. It's the fifth record I have had the pleasure of recording with him. His ability to get the best out of a rock band is pretty special. He always seems to be aware of what the fans want to hear from an artist. He did a great job documenting Slash's tone and sound. I remember the first time I heard the solo for Battleground–I was blown away. Elvis captured the sonic hallmarks that made Slash's playing resonate with me 25 years ago.
Elvis is hands-on with every element of the recording process. From the arrangements to the final mix, he is relentless at making sure that the record is everything it should be and more.
Q: Did you guys experiment with any new sounds with the production?
Slash: Yes and no. The whole record sounds new compared to the last album. Yes we did do a lot of tonal and EQ and guitars. I can't say we were looking to break ground with new technology, because we did this to tape. But from a tonal and equalization point of view, we definitely broke a lot of new ground.
Myles: That would be a question for Elvis or Slash. I can definitely hear some new approaches that I haven't heard on the last two records.
Q: What makes World On Fire the perfect single choice?
Slash: I think there's a lot of singles on the record, but it's a good kick-off song. It's up-tempo, aggressive, it's a fun song. I love the whole world on fire, larger-than-life kind of vibe that the title and lyrics have.
Myles: It's got a certain intensity and drive that made it a compelling choice for the lead-off track.
Q: In what ways are we all suffering from a World On Fire?
Slash: To be literal about it, we have the global warming thing. But that's not the catalyst for the title. World on Fire is more of a tongue-in-cheek, positive, fun thing– it has a lot of sexual connotations in the actual song itself. It's a euphemism for going a little bit crazy and pulling out all the stops.
Myles: World On Fire isn't necessarily a profound statement about where we are as a planet. It's about living life to the fullest….carpe diem. Some might perceive the track as carnal in nature, but the idea of seizing the moment and doing what makes you happy is the overall theme. Then again, it's not up to me to dictate what a song will mean to everyone. All I can do is tell you what was going through my head as the lyrics were being written.
Q: What are a couple of other songs that you feel are highlights for you right now?
SLASH: When doing a record I hate to identify with any one particular song or two particular songs. It's not like the record is written with one great song and the rest are filler. They all mean as much as the others. There are a few songs that are very different than what we did on the last record. There's a song called "The Unholy" which was influenced by my work in film. There's another song called "Thirty Years to Life" which is a little bit of a departure. There's another song that sticks out in my mind called The Dissident that's a little bit unpredictable compared to stuff that people would expect from us.
Q: You're touring with Aerosmith this summer for the Let Rock Rule tour. It feels like true rock is needed more than ever in a very pop-driven landscape. How do you guys feel about this?
Slash: I am a Rock n' Roll guy. The music business has become a pop-oriented sort of thing and all of the different music genres have become pop. I love the fact that I am doing Rock n' Roll and have always done the same thing from a very heartfelt place. Aerosmith has represented that to me ever since I was kid. The two of us going out there and doing this big tour and holding that banner and doing it as sincerely as it can be done is something that I can be proud of.
Myles: Though rock is not the force that it once was in America, it still has a loyal fan base that always seems to continue regardless of what popular culture deems as the "cool thing." It's great because you go to a rock show and you know folks aren't there because they are following trends, they aren't fair weather fans, they're following their heart and listening to music that they love. People have been saying rock is dead for years but the reality is that it just falls out of favor with pop culture from time to time. The rock fans are still out there and that's why a tour like this is so important.