FORMER OZZY GUITARIST JAKE E. LEE SAYS HE WAS APPROACHED TO WORK WITH OSBOURNE IN 2010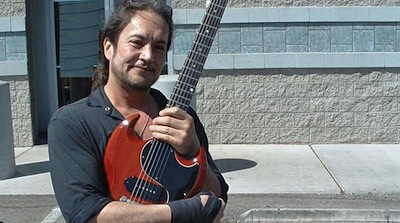 Eamon O'Neill of Eonmusic reports:
Jake E. Lee has revealed that he was approached to re-join Ozzy Osboune's band following the singer's decision to use someone other than Zakk Wylde for his 2010 album Scream. Lee, who was a member of Ozzy's band from 1983 until 1987, made the comments whilst speaking to eonmusic.
Currently promoting his band Red Dragon Cartel's second release Patina, which is due for release through Frontiers records on November 9th, Jake revealed that it was producer Kevin Churko who made the approach, in an effort to reinstate the guitarist who had been let go from Osbourne's band following the completion of the Ultimate Sin tour in 1987.
Said Lee, "…Kevin Churko, he initially contacted me because he was doing Ozzy's albums. To be honest, I haven't listened to Ozzy in a long time, so I don't know which albums he did, but I know he did a couple of albums with Ozzy, but he initially contacted me because he also lives in Las Vegas, about what it would take for me to come back and play with Ozzy."
Although a tantalising prospect for fans of Lee's period with Osbourne that garnered two releases; 1983's Bark At The Moon' and follow-up The Ultimate Sin (1986), a dispute over royalties stopped the idea from ever going any further. "Those talks didn't last long", admitted the former Badlands man; "I mean, basically I said; 'Look, all I want is song writing credit for the stuff I wrote on Bark At The Moon, that's all."
​
The guitarist admitted that the prospect of working with Ozzy again was one that appealed to him, however, the sticking point was never going to go away; "If they do that, I'd be happy to, you know see what could happen with Ozzy and me, all these years later. But, yeah, that was never going to happen…"
…However the idea of working with his former boss didn't end there, with Lee admitting that an approach to the Osbourne camp had been made, for a team up on Ozzy's current No More Tours II tour, that could have seen the pair working together again for the first time in more than three decades.
"I did actually offer," he said; "I said that what would be really cool, I think, it would be, if you could have Red Dragon Cartel open for the tour, and in payment for doing that, I would go up, and play a couple of songs, like Bark At The Moon, The Ultimate Sin, whatever; the songs that I actually played with him." However, it sadly came to nothing, with Lee admitting; "The offer was out there, but it wasn't taken."
Read the entire interview on eonmusic, where Lee discusses how he was sacked from the Osbourne camp, guitar techniques, and the proudest moment of his career from Friday 26th October 2018.
source: eonmusic.co.uk