EBAY AUCTION WINNER DONATES $7300 FOR PLACE ON EDDIE TRUNK'S CELEBRITY BOWLING TEAM, FOURTH ANNUAL "BOWL FOR RONNIE" TAKES PLACE ON OCTOBER 25TH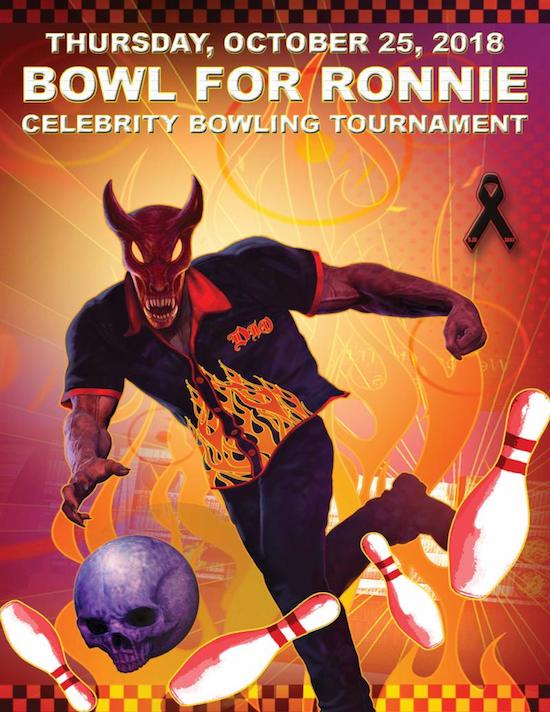 This year's Bowl For Ronnie Celebrity Bowling Party benefiting the Ronnie James Dio Stand Up and Shout Cancer Fund will once again include a celebrity bowling team captained by broadcast personality and event host Eddie Trunk, and a generous Dio fan from San Jose, California has secured a place on that team with a winning EBay auction bid of $7300 for the charity. The Fourth Annual Bowl For Ronnie, on October 25th at PINZ Bowling Center in Studio City, California, will feature the celebrity bowling tournament and a raffle drawing for prizes and memorabilia.
Joining the growing list of celebrity bowlers planning to participate in this year's event are Gilby Clarke (Guns N' Roses), Greg D'Angelo (Anthrax, White Lion), Terry Ilous (Great White), Richie Kotzen (Winery Dogs, Mr. Big) and Gonzo and Phil Sandoval of Armored Saint.
They join a previously announced list of stellar guests that includes Steven Adler (Guns N' Roses, Adler's Appetite), Doug Aldrich (Dio, Dead Daisies), Ira Black (I Am Morbid, Lizzy Borden, Metal Church), Jimmy Burkhard (Billy Idol, West Bound), Brett Scallions and Phil Buckman of Fuel, Kalen Chase (Korn), Jason Cornwell and Stephen LeBlanc of West Bound, Fred Coury (Cinderella), Jeff, Matt and Shawn Duncan (Armored Saint/DC4), Marc Ferrari (Keel, Cold Sweat), Damon Fox (The Cult), Chuck Garric, Chris Latham and Calico Cooper of Beastö Blancö, (Alice Cooper/ Beastö Blancö), actress-musician Abby Gennet, Rita Haney, Sonia Harley, Stew Herrera from KLOS, Adam Jones (Tool), Alex Kane (The Ramones), guitarist-producer Bob Kulick, Sam Koltun, Colin Reid, Rich Sacco, Michael Stone and Patrick Stone of Budderside, Johnny Martin (LA Guns, Adler's Appetite), actor/musician Sean McNabb (Lynch Mob), Tom Morello (Rage Against the Machine, Prophets of Rage), Dave "Chili" Moreno (Puddle of Mudd), Marty O'Brien (Methods of Mayhem, Lita Ford), Otep Shamaya (Otep), Howie Simon (Alcatrazz), Brendon Small (Dethklok, Metalocalypse), Jeff Scott Soto (Trans-Siberian Orchestra), Sadie St. Vincent, Joey Vera (Armored Saint, Fates Warning), Dio Disciples members Oni Logan, Joe Retta, Scott Warren and Simon Wright, Chas West (Lynch Mob, West Bound), Roy Z (Rob Halford), August Zadra (Dennis DeYoung), DJ WIll of KNAC.com and Diva and Ahmet Zappa as well as actors Elysia Skye, Star Fields (Sons of Anarchy), Al Coronel (The Last Ship) and James St. Vincent.
The event begins at 6:30 PM with open bowling and a VIP pre-party for lane sponsors, celebrities and their guests. Bowl For Ronnie participants can anticipate an evening of fun, food, and, of course, bowling with rockers and celebrities competing for trophies in the name of raising funds and awareness for the Dio Cancer Fund.
100% of the net proceeds from the Bowl For Ronnie will go to the Dio Cancer Fund. Individual tickets and lane sponsorships are now on sale, and participants are encouraged to gather friends, family and co-workers for the ultimate bowling team. The Pinz Bowling Center is located at 12655 Ventura Blvd in Studio City, California.
For more information, visit, diocancerfund.org/events.
Tickets are now on sale at bowlforronnie2018.eventbrite.com.
Individual Spectator: $50 per person (includes pizza and general admission)
Individual Bowler: $75 (Join other rock 'n bowlers for open bowling from 6:30-9PM on first come, first served basis, includes pizza, shoe rental and bowling)
Team/Corporate Lane Sponsorship: $1995 package for private lane for 6 bowlers (includes team or corporate logo displayed on lane and throughout event on flat screens, 6 VIP party passes for access to Artist/VIP lounge, 2 drink tickets per team member, 6 "Bowl For Ronnie" t-shirts, pizza and shoe rental).