DUG PINNICK ON WHY IT TOOK SO LONG TO MAKE ANOTHER KING'S X ALBUM, "NOBODY WANTED TO MAKE A RECORD BUT ME"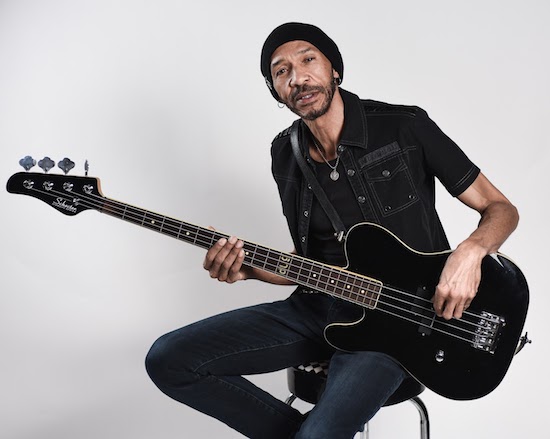 Greg Prato for Vintagerock.com spoke with King's X frontman, and bassist, Dug Pinnick. Excerpts from the interview appear below.
Vintagerock.com: Why so long between albums?
Dug Pinnick: Nobody wanted to make a record but me. It just didn't feel like we had anything to offer. So, finally after a little bit of persuasion — about fourteen years, I guess – we felt like we had something to offer. Plain and simple. I went and did all these side projects. Really, just one day we were playing demos for each other, and [drummer] Jerry [Gaskill] said, "Oh, I feel encouraged. Maybe we can make a record." Real innocent.
Vintagerock.com: How was it working on Three Sides Of One compared to previous King's X albums?
Dug Pinnick: It was the most fun we've ever had — because after being in a band for 42 years, and still being together, we understand each other in a better way. It was just a pleasure to be amongst old friends making music again. And the results seem to be palatable. We were really excited about what we were doing, so we thought, "Wow, there's some excitement — after all these years."
Vintagerock.com: Was the entire album recorded in a studio or were files exchanged online?
Dug Pinnick: I would say 99.9% was done in the studio. All done analog — except for Pro Tools. It went down analog, and then it went through analog stuff to be mastered. So, we wanted to keep it as true to that analog sound that we were used to back in the '70s and '80s. And we thought about "album" more than CDs or streaming. So, we went for the approach of making a real record.
Vintagerock.com: How is [guitarist/vocalist] Ty [Tabor] doing health-wise (it was recently announced that the guitarist has been diagnosed with an undisclosed illness), and will King's X be able to tour in support of the album?
Dug Pinnick: As soon as his doctor says "OK," we're on the go. Until then, we have to just pick shows to do that Ty can go do, without it wearing him out or it compromises his immune system.
Vintagerock.com: How were the shows that King's X recently played? It was two-and-a-half years since your last performance.
Dug Pinnick: We were horrified until we went on stage to play. And then after we got through the first show in New York, we thought, "OK…we might be able to do this." By the time we got to the third show — with Stone Temple Pilots — we were having a good time. So, it just took a minute. You don't walk away from the stage for two-and-a-half years and just think you're going to pick up right where you left off. It was good for us. Because we never stopped playing — so we never experienced this.
Vintagerock.com: Now that it's been a few years since the book King's X: The Oral History came out, what are your thoughts on it now and did you learn things that you didn't know before?
Dug Pinnick: Yeah, I learned a whole lot of things. It's like being married and having a marriage counselor after 40 years, and all of a sudden you find out that they hated peanut butter — and you were putting it on their sandwich all the time, but they didn't want to tell you because they didn't want to hurt your feelings! I learned a lot of things. Nothing specific that I'd like to go into, but it just helped me see my side, my share, and the brotherhood of King's X and how they feel about me — in positive and negative ways. It was really good. I can't wait until the next one — because we're all older and wiser, and see the world differently. There should be a "part II" coming soon, hopefully.
Vintagerock.com: Do you think King's X will issue another studio album after this one?
Dug Pinnick: Yeah. If we can do this, we can do another one. There's never been a conversation about to stop. We even said if we had to stop touring, we'd still make records.
Read more at Vintagerock.com.
King's X's Three Sides Of One was released on September 2nd, to listen to some of the tracks from the release, please click the highlighted song titles: Let It Rain, Give It Up and All God's Children.
Three Sides of One track listing:
1. Let It Rain
2. Flood Pt. 1
3. Nothing But The Truth
4. Give It Up
5. All God's Children
6. Take The Time
7. Festival
8. Swipe Up
9. Holidays
10. Watcher
11. She Called Me Home
12. Every Everywhere