DRUMMER JAMES KOTTAK SAYS HE THINKS THAT GRETA VAN FLEET SOUNDS MUCH MORE LIKE LED ZEPPELIN THAN KINGDOM COME EVER DID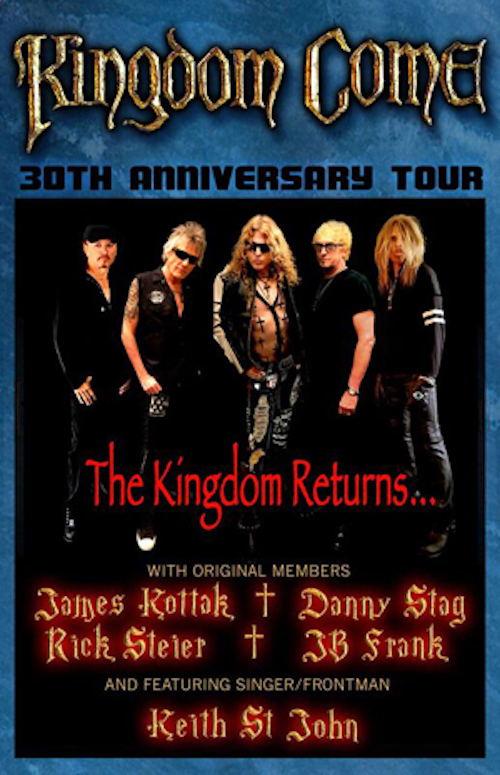 As previously reported, to commemorate the 30th anniversary of the band's eponymous album, Kingdom Come have announced a tour. Ruben Mosqueda of KNAC.com spoke with drummer James Kottak about the event, in addition to other topics. Highlights from interview appear below.
KNAC.com: How did you get involved with Kingdom Come?
Kottak: This was in '87. I had this agent that would pair musicians up with bands. She mentioned that Kingdom Come were looking for a drummer. I had moved to L.A. and she had asked me what work I had done recently. I mentioned that I had just done an album with Ronnie Montrose. I mentioned that there were songs on full rotation on KNAC. I auditioned and there was what appeared to be a parking lot full of drummers out there! [laughs] In the end Lenny [Wolf] and I really hit it off.
That's how it got started, then we added guitarist Danny Stag and then bassist Johnny B. Frank. Derek Shulman from Polygram Records came out to see us play and he offered us a deal on the spot. Two months after that, we were in the studio in Vancouver [B.C.] with Bob Rock, who everyone knows from his work with Motley Crue and Metallica, but his first production job was Kingdom Come.
KNAC.com: What was your recollection of working with Bob Rock?
Kottak: Bob Rock was incredible to work with, he was Bruce Fairbairn's 'right hand man' for years. Bob was his engineer and he learned a lot while working with Bruce. He's such a down to earth guy and I learned so much about recording from making that album.
KNAC.com: Kingdom Come received a lot of flak for being heavily influenced by Led Zeppelin. How fair was that?
Kottak: It was unfair, but when a journalist asked about the influence, I'd take it. And if I was asked about the John Bonham influence? I'd say, 'Hell yeah! Of course he's an influence. That's a huge compliment.' [laughs] Listen, I embraced the Led Zeppelin comparison anytime it came up. There were a couple of guys in the band that frowned on it, but I was like 'Guys, you're missing the point here. We're being compared to the biggest rock band in the history of rock 'n' roll!' I remember in an interview for one of the magazines, one of our guys was quoted as saying sarcastically, 'I've never heard of Led Zeppelin.' Of course he was kidding, but sarcasm doesn't translate well to print. I remember that quote was used as the headline and most people would see that and didn't bother reading the article.
KNAC.com: Which bands sounds more like Zeppelin, Kingdom Come or Greta Van Fleet?
Kottak: I would say Greta Van Fleet. [laughs] I remember the first time I heard them I thought it was Led Zeppelin until I realized I wasn't familiar with the song. [laughs] Those kids are going through the exact thing that we went through. I have heard and read interviews where they mentioned Kingdom Come, so they really know their classic rock history.
KNAC.com: Lenny Wolf isn't part of the 30th Anniversary Tour. I assume he owns the name? How did you strike up a deal to use the name for this tour?
Kottak: I started talking to Lenny as far back as 2008 about doing Kingdom Come again. Scorpions were winding down and I began to plan for what happened after the tour ended. So we released Sting In The Tail shortly thereafter, we announced a 'farewell tour' and we were going to go around the world and say goodbye to all our fans. And we did for a close to three years. [laughs] So fast forward a few years and Lenny, the rest of the guys and I get back together, we talk, we rehearse, we had dinner together, things are going great. Then I get a call from Scorpions' management saying, 'James, we know you're doing Planet Rock, Kottak and Kingdom Come. Can you not do that? We have decided not to say farewell and Scorpions will be doing another album and tour.' The good news was that we went into the studio and we did Return To Forever and another three years of touring. My allegiance was to Scorpions and I pulled the plug on everything else that I was working on, including Kingdom Come. I wasn't happy about that, but that's how it goes. In that time, Lenny decided to retire from music and he's living in Hamburg, Germany and enjoying life. We're friends, we still talk and we'll see each other again soon, I'm sure.
KNAC.com: Moving forward would you like to record new music with the guys or will this end once the anniversary dates are over?
Kottak: You asked earlier about 'the deal' with Lenny and the ownership of the name. I can't disclose details, but he gave us his blessing to move forward. We would like to and will do new music, but there is a wait period for us to be able to do that. I'm totally okay with that for the time being. Right now we're going out, doing some shows, we're testing the waters, we're reconnecting with fans and guys like you.
KNAC.com: If James Kottak decided to write a biography what would it be titled?
Kottak: Funny you should mention this, I have written stuff for a book. That's a project for another day. What would I call it? I would like to call it 33 Days. I could simply call it Rock & Roll Forever. It's already across my back. [bursts into laughter].
Read more at KNAC.com.
source: knac.com