DEF LEPPARD RELEASE BEST OF ALBUM AND VINYL SINGLES BOX SET TODAY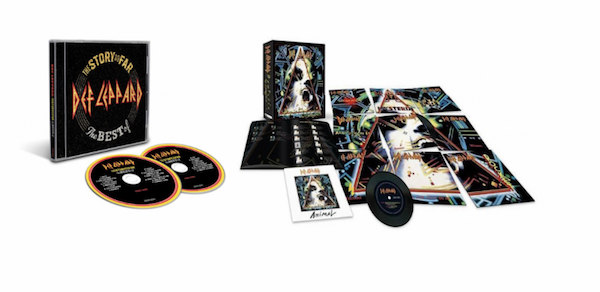 Closing out a banner 2018, legendary British rock n' roll icons and 2019 Rock & Roll Hall of Fame® nominees Def Leppard debut a string of releases. The group have assembled a brand new greatest hits collection entitled The Story So Far – The Best Of, available in stores and online today. It is available in multiple configurations: a 2-CD set comprised of 35 tracks, 1-CD comprised of 17 tracks, 2LP vinyl, and digital. Among a blockbuster tracklisting loaded with timeless hits, all four versions feature two stellar new songs, including the official recording of the band's recent fan favorite, and previously unreleased Depeche Mode cover Personal Jesus, and the original holiday song titled We All Need Christmas. Also included, is the previously unreleased radio mix of "Rock On." As a bonus for collectors, the first pressing vinyl copies of The Story So Far feature an exclusive 7" single of Personal Jesus and We All Need Christmas. See full tracklisting below.
Essential for newcomers and longtime fans alike, The Story So Far plays out like the ultimate Def Leppard set upheld by stadium-size anthems.
The group also released Hysteria: The Singles, a new limited edition, 10-disc vinyl box set featuring all of the 7" singles from their eponymous multi-platinum album Hysteria, which celebrated its 30th anniversary last year. Hysteria: The Singles features repressed versions of all eight 7-inch vinyl singles for Hysteria including their Top-5 hits Pour Some Sugar On Me, Animal, Love Bites, Hysteria, Rocket and Armageddon It. Two bonus singles, Excitable"/"Run Riot (Album Version) and "Love and Affection"/"Don't Shoot The Shotgun" (Album Version), are only available in this box set.
Housed in a beautiful box with a lift-off lid, Hysteria: The Singles features new cover art made up of all 10 of the single's sleeves, including the rare Spanish Animal single, plus a booklet with a full band discography and an introduction written by Joe Elliott.
Capping off this robust release schedule, Def Leppard is offering a special color vinyl edition of their RIAA diamond-certified third full-length, Pyromania, available now as part of The Sound of Vinyl's series of limited-edition releases.
Everything sets the stage for what promises to be an even bigger 2019. Be on the lookout for more from Def Leppard soon.
With more than 100 million albums sold worldwide and two prestigious Diamond Awards in the U.S., Def Leppard – Joe Elliott (vocals), Phil Collen (guitar), Rick "Sav" Savage (bass), Vivian Campbell (guitar) and Rick Allen (drums) — continue to be one of the most important forces in rock music. Over the course of their career the band has produced a series of classic groundbreaking albums that set the bar for generations of music fans and artists alike. The group's spectacular live shows and arsenal of hits have become synonymous with their name, leading Def Leppard to be heralded as an institution in both the music and touring industry. Following the close of their historic 2018 co-headline stadium and arena run in North America, Def Leppard sold a staggering 1,000,000 tickets and the tour grossed over $100,000,000.00, a massive feat in today's touring world. As always, the group keep pushing forward with their electrifying live shows and recorded music that continues to span generations.
The Story So Far track listing:
Disc 1:
1. Animal
2. Photograph
3. Pour Some Sugar On Me
4. Love Bites
5. Let's Get Rocked
6. Armaggedon It
7. Foolin'
8. Two Steps Behind
9. Heaven Is
10. Rocket
11. Hysteria
12. Have You Ever Needed Someone So Bad
13. Make Love Like A Man
14. Action
15. When Love & Hate Collide
16. Rock of Ages
17. Personal Jesus
Disc 2:
1. Let's Go
2. Promises
3. Slang
4. Bringin' On The Heartbreak
5. Rock On (Radio Remix)
6. Nine Lives (feat. Tim McGraw)
7. Work It Out
8. Stand Up
9. Dangerous
10. Now
11. Undefeated
12. Tonight
13. C'Mon C'Mon
14. Man Enough
15. No Matter What
16. All I Want Is Everything
17. It's All About Believing
18. Kings Of The World
Hysteria: The Singles tack listing:
Disc One: Women / Tear It Down (US Version)
Disc Two: Animal / I Wanna Be Your Hero (US Version)
Disc Three: Hysteria / Ride in To the Sun (Int Version)
Disc Four: Pour Some Sugar on Me / Ring of Fire (US Version)
Disc Five: Love Bites / Billy's Got A Gun (Live)(Int Version)
Disc Six: Armageddon It / Release Me (Can Version)
Disc Seven: Rocket / Woman (Live) (US Version)
Disc Eight: Excitable / Run Riot (Album Version)
Disc Nine: Love and Affection / Don't Shoot Shotgun (Album Version)
Disc Ten: Animal / Tear It Down (Spanish Artwork Version)
Purchase The Story So Far – The Best Of here.
Purchase We All Need Christmas digital single here.
Purchase Hysteria: The Singles vinyl singles box set here.
Purchase Personal Jesus digital single here.
Purchase the limited edition color vinyl of Pyromania here.
Def Leppard online: