WRITER GREG PRATO REFLECTS ON RAINBOW'S "RISING"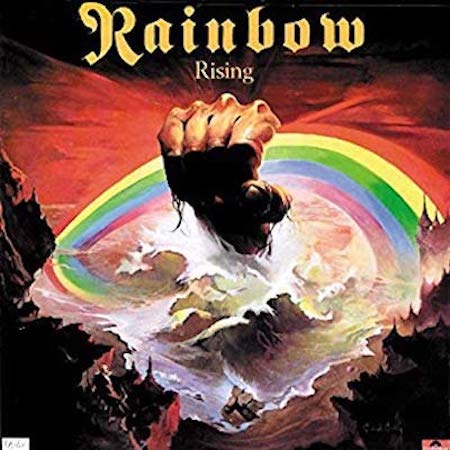 Writer Greg Prato has written a feature article about Rainbow's album, Rising, for Vintage Guitar Magazine. Excerpts from the column appear below.
Throughout the course of Rainbow's history, one thing always seemed inevitable – except for Ritchie Blackmore, band members would come and go like the wind. And one of the quickest/most extensive overhauls took place after the band's first album, 1975's Ritchie Blackmore's Rainbow, when the former Deep Purple guitarist promptly sacked the album's bassist, keyboardist, and drummer – only retaining the singer (a then-largely unknown Ronnie James Dio). And while their debut was not as hard rocking as his previous band's output from 1970-1974 was, the line-up that he assembled for Rainbow's sophomore effort, Rising, changed all of that in a jiffy.
Despite being a largely newly-assembled band (bassist Jimmy Bain, keyboardist Tony Carey, and drummer Cozy Powell were the recent arrivals), musically and stylistically, it sounded as if they gelled automatically. The resulting Rising is largely considered to feature Rainbow's best line-up…
When I interviewed Carey for the 2016 book, The Other Side of Rainbow, he offered a glimpse into the album's recording sessions. "It was quick. We knew most of the material, because we had played it live or played it in rehearsals…and a lot of the stuff was one or two takes for the band. I didn't play live with the band – I overdubbed everything I played. They played just as a trio – with Ritchie, Jimmy, and Cozy, and of course, Ronnie overdubbed, and I overdubbed. Really quick. In and out…"
…While Rising did not exactly storm the charts Stateside..[it] has been heralded as a definitive heavy metal recording (coming in at #1 on Kerrang! Magazine's "All-Time Top 100 HM Albums" list in October 1981 – above the likes of Back in Black, Led Zeppelin IV, and Paranoid). And to this day, it is deemed an all-time classic, as confirmed by metal expert Eddie Trunk. "Rising definitely. It's a tough question, but Rising I think stands as the definitive Rainbow record, and a lot of that has to do with the fact that Stargazer is on it."
To read the entire article, check out the December issue of Vintage Guitar Magazine.
To purchase a copy of The Other Side of Rainbow, please click here.
source: vintageguitar.com