DEF LEPPARD TO RELEASE "BEST OF" COLLECTION AND "HYSTERIA: THE SINGLES" ON NOVEMBER 30TH, BAND IS ALSO STREAMING A CHRISTMAS SONG ONLINE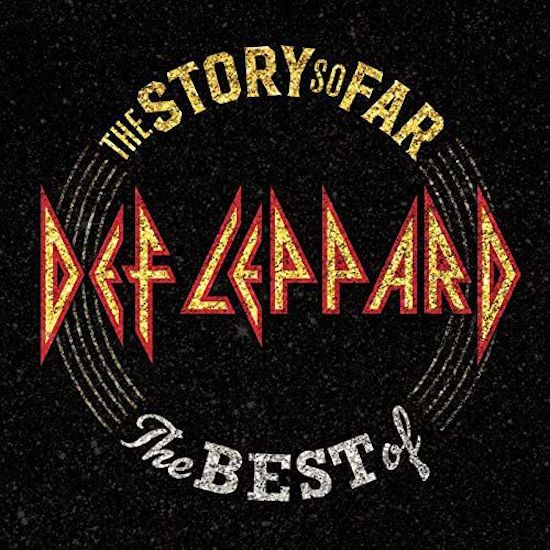 Def Leppard are celebrating their first-ever Rock And Roll Hall Of Fame nomination in style by announcing three new releases.
A new greatest hits collection titled, The Story So Far: The Best Of, which will be released on November 30th. The double disc set will feature 35 tracks – including their cover of Depeche Mode classic Personal Jesus.
Also arriving on November 30th is Hysteria: The Singles – a limited edition 10-disc vinyl box set featuring the smash hits Pour Some Sugar On Me, Animal, Love Bites, Hysteria, Rocket and Armageddon It, along with two bonus singles Excitable/Run Riot and Love And Affection/Don't Shoot The Shotgun.
The package's cover art is made up of all 10 of the singles' sleeves, including the Spanish Animal cover, plus a booklet with a full discography and an introduction written by Def Lep frontman Joe Elliott.
As is if that wasn't enough Def Leppard news for one day, the band have got into the Christmas spirit early and released We All Need Christmas. Listen to it below.
Def Leppard: The Story So Far track listing:
Disc 1:
1. Animal
2. Photograph
3. Pour Some Sugar On Me
4. Love Bites
5. Let's Get Rocked
6. Armaggedon It
7. Foolin'
8. Two Steps Behind
9. Heaven Is
10. Rocket
11. Hysteria
12. Have You Ever Needed Someone So Bad
13. Make Love Like A Man
14. Action
15. When Love & Hate Collide
16. Rock Of Ages
17. Personal Jesus
Disc 2:
1. Let's Go
2. Promises
3. Slang
4. Bringin' On The Heartbreak
5. Rock On (Radio Remix)
6. Nine Lives (feat. Tim McGraw)
7. Work It Out
8. Stand Up
9. Dangerous
10. Now
11. Undefeated
12. Tonight
13. C'Mon C'Mon
14. Man Enough
15. No Matter What
16. All I Want Is Everything
17. It's All About Believing
18. Kings Of The World
Hysteria: The Singles Box Set track listing:
Disc 1: Women / Tear It Down (US Version)
Disc 2: Animal / I Wanna Be Your Hero (US Version)
Disc 3: Hysteria / Ride in To the Sun (Int Version)
Disc 4: Pour Some Sugar on Me / Ring of Fire (US Version)
Disc 5: Love Bites / Billy's Got A Gun (Live)(Int Version)
Disc 6: Armageddon It / Release Me (Can Version)
Disc 7: Rocket / Woman (Live) (US Version)
Disc 8: Excitable / Run Riot (Album Version)
Disc 9: Love and Affection / Don't Shoot Shotgun (Album Version)
Disc 10: Animal / Tear It Down (Spanish Artwork Version)
source: Classic Rock via loudersound