CELEBRITIES AND MUSICIANS JOIN THIRD ANNUAL "RIDE FOR RONNIE" MOTORCYCLE RALLY & CONCERT ON SUNDAY, MAY 7TH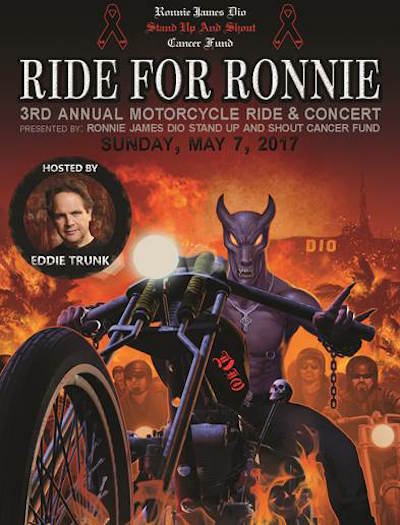 The third Annual Ride For Ronnie Motorcycle Rally and Concert, benefiting the Ronnie James Dio Stand Up and Shout Cancer Fund, is set for Sunday, May 7th, 2017, comprising a Motorcycle Ride through the streets of Los Angeles County and an afternoon of live music. Last year's Ride For Ronnie event raised over $50,000 for the cancer charity.
Riders will assemble at Harley-Davidson of Glendale with kickstands up at 11AM. Among those expected to join Dio Cancer Fund co-founder and president Wendy Dio and the cavalcade of motorcycle riders are rockers Lita Ford, Gilby Clarke (former Guns N' Roses guitarist), Sean McNabb (Lynch Mob), Taime Downe (Faster Pussycat) and Xavier Muriel (Buckcherry) plus actors Chris Bruno (The Dead Zone) and Sons of Anarchy's Emilio Rivera, Rusty Coones and Star Fields.
Gates at Los Encinos Park in Encino will open at 11:30AM for the Concert portion of the event with live entertainment provided by rockers Lynch Mob, Eddie Money, Rough Cutt, Dio Disciples, The Loveless, Sonia Harley, and No Small Children. Radio personality Eddie Trunk will handle hosting duties, which will also include a raffle, silent and live auctions, food trucks, merchandise vendors and more. Lita Ford, Alex Grossi (Quiet Riot guitarist), Jeff Pilson (Foreigner and former Dio guitarist), Marc Ferrari (Cold Sweat) and Marty O'Brien (Lita Ford) will be on hand for the concert festivities. Guns N' Roses drummer Steven Adler is now organizing players for an all-star jam.
A donation of $25000 will be presented to Dr. David Wong of the UCLA School of Dentistry to help fund his team's research into the development of a simple, non-invasive saliva test for the early detection of cancer. This is part of the Dio Cancer Fund's commitment to this ground-breaking project, which is in keeping with its message that early detection saves lives.
There will be a display illustrating breakthroughs in the gastric cancer research that is being done at UCLA by Dr. Wong's team, and he will be present to help explain these inroads to interested fans. Additionally, the Dio Cancer Fund will be distributing complimentary bottles of sunscreen along with skin cancer prevention information.
The silent auction will be held in one of the exhibit booths throughout the afternoon, while live auctions, featuring one-of-a-kind rock collectables, will take place during intervals between artist performances. Live Auction, raffle and silent auction items include a stage-worn full-length leather Eddie Money trenchcoat from his 2000 Millennium Tour, a Great White acoustic guitar signed by the band members, Dio photo book signed by all of the Red Hot Chili Peppers, a Black Sabbath collectables and merchandise bundle, a variety of concert tickets, wine-tasting certificates, and much, much more.
Los Angeles' premier rock radio station, 95.5 KLOS, has come on board this year as an event sponsor and will be out in force at Harley Davidson in Glendale for the start of the ride.
Slammin Sliders, G's Taco Spot, Greenz on Wheelz and Archie's Ice Cream food trucks will be on site at the Park throughout the afternoon. Premium beer sponsored by Ninkasi Brewing Company will be available as well as Graffiti Wine, water courtesy of Solar Rain and soft drinks. Additional RIDE FOR RONNIE sponsors include Harley-Davidson of Glendale, Law Tigers and Bigg Time Entertainment.
An array of merchandise-teeshirts, baseball-style shirts, caps, CDs, wristbands, event souvenirs, etc. will be available for purchase and a "Jumble Sale" booth featuring gently-used items and collectables benefiting the Dio Cancer Fund will be also on site at the Park. Additional merchandise vendors will also participate.
Both riders and concert-goers can purchase their tickets by visiting diocancerfund.org/events.
Pre-Registration Prices:
$35/rider (includes concert admission)
$10/passenger (includes concert admission)
$25 concert admission only
Day of Event Prices:
$40/rider (includes concert admission)
$10/passenger (includes concert admission)
$30 concert admission only
2017 Ride For Ronnie Motorcycle Ride and Concert Schedule
Sunday, May 7, 2017
Ride:
9:00am – 10:45am: Rider Check-In & On-Site Registration
9:00am – 10:30am Continental Breakfast
Kickstands up at 11:00am
Harley Davidson of Glendale
3717 San Fernando Rd., Glendale, CA 91204
Concert:
11:30AM – Gates open
11:45AM- 5PM Concert
Los Encinos State Historic Park
16756 Moorpark Street Encino, CA 91436