BLACK STAR RIDERS' SCOTT GORHAM ON THE POSSIBILITY OF A PHIL LYNOTT MOVIE, "IT HAS TO BE THE RIGHT SCRIPT…I'M NOT REALLY HOLDING MY BREATH"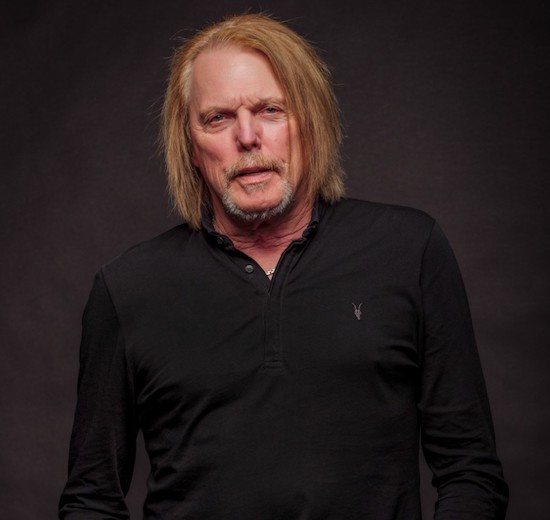 Greg Prato of Brave Words spoke with current Black Star Riders and former Thin Lizzy and 21 Guns guitarist, Scott Gorham. Excerpts from the interview appear below.
BraveWords: Let's discuss the new Black Star Riders album, Another State Of Grace.
Scott Gorham: The obvious thing is we've got two new guys in the band – Christian Martucci as my guitar partner now. He comes from a band called Stone Sour. And we've got Chad Szeliga on drums, who replaced Jimmy DeGrasso. Right there, you're going to get quite a different sound. To be quite honest, I think we were due that. We had done three albums with the previous regime – with Jimmy DeGrasso and Damon Johnson – which I thought were great albums. I thought we wrote some great stuff. But it's always time every once in a while to welcome the new blood, the new energy that gets injected with new people coming in the band. And I think we got it. And we've got a new producer, with Jay Ruston, and he came in and created a great atmosphere for us in Sphere Studios in Los Angeles. So, all in all, I had probably more fun and everybody else did on this album, than maybe on the last album. Just for that fact alone, I think it's a great success – the whole "new blood thing."
BraveWords: What are some of your favorite tracks?
Scott Gorham: The title track is a great track. We always seem to put on a nod to Ireland – which is really a big part of Ricky's and my past. Me, with my mother being full Irish, so that makes me half-Irish, and me coming from an Irish band, Thin Lizzy, and Ricky actually being born and raised in Belfast, Ireland, and coming up through the Troubles, and all that. It's really a nod to Ireland – almost like a thank you…but not just as a thank you. We genuinely really like those Irish grooves and Irish chord patterns, and the way the Irish developed their music and the feel they put in there. We tended to go that way on every album – for at least one song….
BraveWords: The song title Soldier In The Ghetto reminded me of something that Phil Lynott may have come up with.
Scott Gorham: Could have been. But I don't think Ricky is trying to copy Phil in any way, shape, or form. But it is the reason why I got him into Thin Lizzy – because of the timbre of the voice and when I worked on his first solo album, I realized, "Wow, this guy reminds me of someone. Who does this guy remind me of?" And it was Phil. Because you're listening to the lyrics, and he actually tells a story. Whether you like the story is another thing, but he tells a story while singing the song…"
BraveWords: About ten years ago, there was talk of a movie being made about Phil Lynott's life, which ultimately did not happen. Do you hope that one day there is a movie about Phil's life – especially after the success of the Bohemian Rhapsody film?
Scott Gorham: Until Bohemian Rhapsody came out, I was neither here nor there. Most of the rock films you saw were terrible – bad storyline, bad acting, bad wigs on the actors. So, I never really pushed for any of that. I know in the beginning of next year, there is a major documentary on Thin Lizzy that is going to be shown in a lot of cinemas in the UK and Ireland. But I think it's a great story, and what Thin Lizzy has to offer as a story is pretty compelling – and what our history actually could bring to the big screen. But it still is down to the right director and whoever is writing the script. It has to be the right script…I'm not really holding my breath on any of that. I think Queen got extremely lucky with the production that they had, the money that was put into it….
BraveWords: I think Phil's story would translate well to the screen – if it's done correctly.
Scott Gorham: Being nearly the sole black person in a whole country – right there. Trying to live through that as a kid must have been pretty amazing, really. I'd imagine some of his friends are still around, and could tell you stories about what Phil had to go through, and what he had to put up with – just to fit in. Being that lone black guy. It is true – in the early days of touring, when Lizzy was touring, you'd turn around, and you'd be hard pressed to find anyone of color in the whole country. He definitely stood out.
BraveWords: Touring plans?
Scott Gorham: ….we've got seven weeks in Europe. It's a pretty long tour, and we're hitting I think every major country in Europe. After that, I know there is talk of us probably coming over to America – I'm not sure when or for how long and under what circumstances. But that is the plan at the moment.
Read more at Brave Words.