BLACK STAR RIDERS' DAMON JOHNSON DISCUSSES GOING ON TOUR WITH JUDAS PRIEST AND SAXON, ALSO WHY THE BAND IS HAVING A TOUGH TIME BREAKING IN AMERICA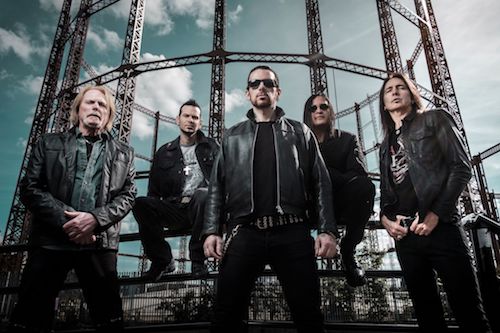 Ruben Mosqueda of Metal Titans spoke with Black Star Riders guitarist Damon Johnson. Excerpts from the interview appear below.
"This [tour] is going to change things for us, there's no other band you can name that embraces hard work like we do," says an enthusiastic Damon Johnson…about opening for Judas Priest across North America this spring.
"This tour will absolutely bring Black Star Riders to the forefront and will get promoter's attention and we will get some festival appearances." Black Star Riders issued their 3rd effort Heavy Fire in February of 2017 [Nuclear Blast Records] and are bursting at the seams to play in America.
Johnson goes on to say, "I'm proud of this band, I'm proud that we have great people in this band and that we have mutual admiration and respect for one another. To break the band in the [United] States would simply be the icing on the cake…I can tell you that for this tour we're doing stuff that's heavier. You have to for the Judas Priest crowd."
Metal Titans: Black Star Riders have released three albums; you've done great business around the world. Breaking Black Star Riders in North America has been challenging. This spring tour with [Judas] Priest and Saxon should help tremendously.
Damon Johnson: Ruben, let me start by saying that we are jubilant and elated to be a part of this tour with Judas Priest and Saxon. This whole thing happened because the Priest guys are friends and they have been so supportive of Black Star Riders, as far back as when we were still Thin Lizzy. I guess it's great to have friends in high places, right? [laughs]
I won't kid you, but to your point; America has eluded us. There are many rock n' roll avenues [rock radio] in America that have helped us, but the reality is Ruben, they don't reach enough people. Active radio nowadays only plays the same 12 bands and to get your band played on there is going to cost you more money than you can print. It's been a challenge, it's been really hard. There are people that want to hear Black Star Riders in America but we just can't afford to bring all the gear, fly Scotty [Gorham] in and then get into a van and pull a trailer and play to 40 people a night. There's just no awareness, that's just the way that it is. I don't want to sound like I'm complaining, I'm just looking at things realistically. That's the hard facts and the hard reality. I thought to myself, "Man, this just isn't going to happen for us in America," then we got the call from Judas Priest in September [2017] about this tour. I can't even begin to tell you how stoked we are about this tour.
Metal Titans: In between Priest shows, Black Star Riders and Saxon are doing joint shows. That must be gratifying that there's interest from promoters to book the band?
Damon Johnson: Absolutely and in deed you're right Ruben. We've book 5-6 show Saxon and we've booked 5-6 shows on our own. We did one in Buffalo [New York] last week and we have one coming up in Montreal [Quebec, Canada] and we just announced Seattle [Washington] within the last 72 hours.
Metal Titans: Black Star Riders have become its own entity; there's an evolution from All Hell Breaks Loose to Heavy Fire. I hear little less Thin Lizzy with each subsequent record.
Damon Johnson: I never felt that we ever needed to deny or rid ourselves of our Lizzy origins or heritage. We absolutely wanted to grow the Black Star Riders name and allow it to grow it's own enthusiastic fanbase. The idea to write a song that sounds like Thin Lizzy, if I knew the formula for that I would tell you right now. You know what I mean? It's not like Scott Gorham will walk in wearing a particular suit, plug in and next thing you Ricky is sounding like Phil [Lynott] and the song sounds like Thin Lizzy circa Johnny The Fox! [laughs]
Metal Titans: You're on tour with Priest and Saxon at the moment; what are your favorite albums by each of your tourmates?
Damon Johnson: I'm definitely familiar with both bands but I must admits Priest more so, than Saxon. I had one of my best friends playing drums in one of my high school bands. He was really up to date on all of the British metal bands; he turned me onto Saxon. What was the record? Wheels Of Steel? Did that have Princess Of The Night on it?
Metal Titans: That would have been Denim And Leather.
Damon Johnson: I've always love that. We attempted to cover that in our band. [laughs]
The Priest catalog; I'm super familiar with. My favorite album from Priest from top to bottom is Point Of Entry. It's not one that people pick, that record just spoke to me. Heading Out To The Highway just spoke to me. And Desert Plains? Ruben, that song is my top 20 songs of all-time. I love that song so much, I wish they were doing that on this tour but I know it's hard for them to fit everyone's favorites in.
Metal Titans: And you have three records with Black Star Riders. If you had to turn to one of the three records to recommend to a new fan, which would it be and why?
Damon Johnson: [long pause] I think it would be hard to deny that the new record; Heavy Fire would be a good place to start. The record has so much diversity and great dynamics; in my opinion that is the most "Lizzyesque" thing about the record, that it just covers so much ground. Heavy Fire, the title track is in your face and Who Rides The Tiger is one of my favorite songs that I have ever written. There's some great melodic stuff on there that is "Motown" influenced, which is something that Ricky and I are huge fans of, like; Dancing With The Wrong Girl and Testify Or Say Goodbye.
I have to add a footnote; there a song on our second album The Killer Instinct [2015] it has a song on there titled Blindsided to date that is my favorite Black Star Riders song. I thank our producer Nick Raskulinecz for really pushing us to the limit. I think we delivered in spades on that one. I love that song so much and can't say enough about Ricky's lyrics and his ability to tell a story.
Read more at Metal Titans.
source: metaltitans.com