ALICE COOPER'S DOCUMENTARY "SUPER DUPER ALICE COOPER" PREMIERING AT THE TRIBECA FILM FESTIVAL ON APRIL 17TH, THEATRICAL SCREENINGS STARTING APRIL 30TH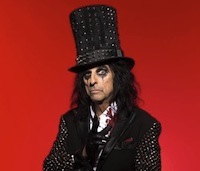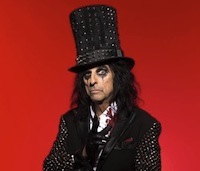 As announced earlier this month, the upcoming official Alice Cooper documentary, Super Duper Alice Cooper, will premiere at the 2014 Tribeca Film Festival and will hit theaters nationwide beginning April 30th, 2014.
Super Duper Alice Cooper will officially premiere on April 17th, 2014 and is presented by Banger Films, in association with Eagle Rock Entertainment, and distributed to theaters and venues by SpectiCast (As The Palaces Burn, Aerosmith: Rock for the Rising Sun, Morrissey 25: Live).
Catch this special "doc opera" at a theater or venue near you. Super Duper Alice Cooper will screen in over 250 U.S. cinemas and venues following the premiere (see below for a full listing). As mentioned previously, a special pre-recorded Keep Calm & Just Ask Alice Q&A and welcome from Alice will be included exclusively with each screening.
See below for a current list of U.S. theatrical and venue screenings, sorted by their original screening date. Several of the mentioned theaters and venues will show multiple screenings of Super Duper Alice Cooper, so make sure to check your local listings for more information.
Upcoming Super Duper Alice Cooper U.S. screenings:
4/30:
Fairfax, VA Angelika Mosaic
Dallas, TX Angelika Film Dallas
Plano, TX Angelika Film Plano
San Diego, CA Gaslamp 15
Honolulu, HI Ward Stadium 16
Sacramento, CA Tower Theatre
La Mesa, CA Grossmont Center 10
Rohnert Park, CA Rohnert Park 16
Bakersfield, CA Valley Plaza 16
New York, NY Village East
Manville, NJ Manville 12-Plex
Murrieta, CA Cal Oaks 17
Cleveland, OH Capitol Theatre
Cleveland, OH Shaker Square Cinemas
Pittsburgh, PA Southside Works Cinema
Peoria, AZ Arrowhead Fountains 18
Oklahoma City, OK Bricktown 16
Chandler, AZ Chandler Fashion 20
Moreno Valley, CA Moreno Valley 16
Denver, CO Northfield 18
Phoenix, AZ Scottsdale 101
Arlington, MA Regent Theatre
Claremont, CA Claremont 5
North Hollywood, CA NoHo 7
Pasadena, CA Playhouse 7
Amherst, NY The Screening Room Inc.
Chestnut Hill, MA Showcase SuperLux
Millbury, MA Blackstone Valley 14 Cinema de Lux
Dedham, MA Showcase Cinema de Lux Legacy Place
Bridgeport, CT Showcase Cinemas Bridgeport
White Plains, NY City Center 15: Cinema De Lux
Whitestone, NY College Point Multiplex Cinemas
Edgewater, NJ Edgewater Multiplex Cinemas
Farmingdale, NY Farmingdale Multiplex Cinemas
Holtsville, NY Island 16: Cinema De Lux
Lowell, MA Showcase Cinemas Lowell
Foxboro, MA Showcase Cinema de Lux Patriot Place
Providence, RI Providence Place Cinemas 16
Springdale, OH Springdale 18: Cinema De Lux
Warwick, RI Showcase Cinemas Warwick
Randolph, MA Showcase Cinema de Lux Randolph
Revere, MA Showcase Cinema de Lux Revere
Elmsford, NY Greenburgh Multiplex Cinemas
Yonkers, NY Showcase Cinema de Lux Ridge Hill
Bonita Springs, FL Prado Stadium 12
5/1:
San Francisco, CA Balboa Theatre
Cincinnati, OH Esquire Theatre
Columbus, OH Gateway Film Center
Sparta, NJ Digiplex Sparta
Mechanicsburg, PA Digiplex Mechanicsburg
Camp Hill, PA Digiplex Camp Hill
Williamsport, PA Digiplex Williamsport
Bloomsburg, PA Digiplex Bloomsburg
Selinsgrove, PA Digiplex Selinsgrove
Reading, PA Digiplex Fairgrounds
Solon, OH Digiplex Solon Cinema 16
Surprise, AZ Digiplex Surprise Pointe 14
Bloomfield, CT Digiplex Bloomfield
Lisbon, CT Digiplex Lisbon
Torrington, CT Digiplex CINEROM Torrington
Temecula, CA Digiplex Temecula Tower 10
Apple Valley, CA Digiplex Apple Valley 14
Bonsall, CA Digiplex River Village
Oceanside, CA Digiplex Mission Marketplace 13
Poway, CA Digiplex Poway 10
Westfield, NJ Digiplex Rialto Westfield
San Rafael, CA California Film Institute
5/2:
Phoenix, AZ FilmBar
5/7:
Athens, OH Athena Grand
5/13:
Tuscon, AZ The Loft Cinema
5/19:
Bridgeport, CT Bijou Theatre