OFFICIAL DOCUMENTARY "SUPER DUPER ALICE COOPER" TO PREMIERE AT THE TRIBECA FILM FESTIVAL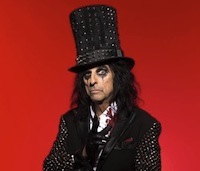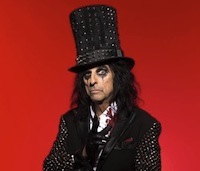 Eagle Rock Entertainment, in association with Banger Films, are proud to announce the world premiere of Super Duper Alice Cooper at the 2014 Tribeca Film Festival (TFF), presented by AT&T, where it will screen as part of their Spotlight section. Taking us through his life and career, Alice presents his story in the first ever "doc opera" film – a dizzying blend of documentary archive footage, animation, and rock opera.
Super Duper Alice Cooper is the twisted tale of a teenage Dr. Jekyll whose rock n' roll Mr. Hyde almost kills him. It is the story of Vincent Furnier, a preacher's son who struck fear into the hearts of parents as Alice Cooper, the ultimate rock star of the bizarre. From the advent of Alice as front man for a group of Phoenix freaks in the 60's to the hazy decadence of celebrity in the 70s to his triumphant comeback as 80s glam metal godfather, we will watch as Alice and Vincent battle for each other's' souls. Alice's story is told not only by the man himself, but through exclusive interviews with members of the original Alice Cooper band, Elton John, Iggy Pop, John Lydon, and Dee Snider.
Super Duper Alice Cooper is the creation of Scot McFadyen and Sam Dunn at Banger Films, producers of Iron Maiden: Flight 666 (2009 SXSW Audience Choice Winner) and Rush: Beyond The Lighted Stage (2010 Grammy-nominated and Tribeca Audience Choice Winner), and much-lauded filmmaker Reginald Harkema, winner of the TIFF Special Jury Prize for his film Monkey Warfare.
The 13th edition of the Tribeca Film Festival will take place from April 16th to April 27th at locations around New York City.
For more information on Super Duper Alice Cooper, please visit www.SuperDuperAliceCooper.com or like the Facebook page
Alice Cooper needs no introduction. Still touring the world, with over 100 concerts scheduled in 2014, and hosting his internationally syndicated Nights With Alice Cooper radio show five nights a week for over a decade, Alice shows no sign of slowing down.
Alice on the web:
alicecooper.com/
facebook.com/AliceCooper
twitter.com/realalicecooper