AIRBOURNE GUITARIST DAVID ROADS DEPARTS THE BAND, GROUP ANNOUNCES REPLACEMENT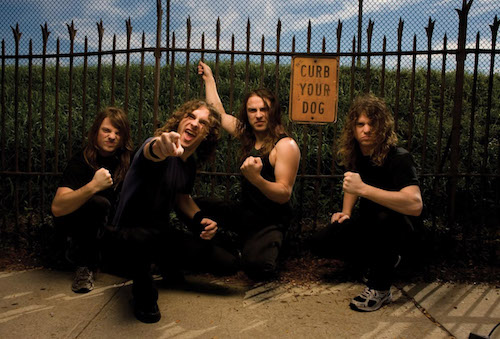 Airbourne have announced that their guitarist David Roads has decided to leave the band. The band writes:
"To all Airbourne fans and friends we've got one Hell of an update for you," says the Australian quartet.
(Guitarist) David Roads has decided to leave the band to work in his family business. As the old saying goes, 'you can take the boy out of the farm, but you can't take the farm out of the boy'. We say, good on ya mate, well-played and good luck!
Now to the future, and it's all guns blazing foot to the floor! Introducing you to our new Airbourne Brother, he's our long time staunch mate Harri "The Riff Doctor" Harrison. Possessing a gifted Rock'n'Roll right hand motor he already 'fits in like a well-greased piston into a V8' and we are all pumped to be bringing his powerful locomotive-like rhythm with us to rock the summer festivals!
Cheers and see ya soon rockers! – Joel, Ryan & Streety"
David Roads would like to say "Many thanks to all the fans. It has been an absolute pleasure rocking out with you guys over the years. It was great to be a part of this wild Airbourne ride! Cheers!"
Airbourne will launch a European tour starting May 30th in Warsaw, Poland and presently winding down on July 13th in Aix Les Bains, France.
The band's latest album, Breakin' Outta Hell on September 16th through Spinefarm Records. To listen to songs from this release, click the highlighted song titles.