AIRBOURNE PAY TRIBUTE TO LEMMY KILMISTER IN THEIR LATEST VIDEO, "IT'S ALL FOR ROCK N' ROLL"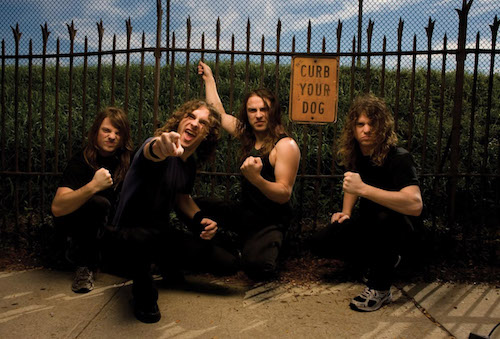 It's All For Rock 'N' Roll, the new video from Australian hard rockers Airbourne, can be seen below. The song was written about Lemmy, a man the band looked up to, befriended and loved, having shared stages with Motorhead on numerous occasions over their decade-plus career, both in Europe and Australia; when they needed someone to drive a large truck (recklessly, of course) in their Runnin' Wild video (2007), Lemmy was the first name on the list, and he duly obliged with a memorable, authority-baitin' cameo.
Motorhead's famous "bomber" lighting rig, a noted part of 'HEAD history since the late '70s, was enthusiastically lent to Airbourne by the Motorhead camp, adding real emotional weight to both the It's All For Rock N' Roll clip and the song itself — an anthemic number recorded to honour one of rock's most revered and influential figures, and also to celebrate the hard rock genre as a whole, the loyalty and the legacy…
Says Airbourne frontman Joel O' Keeffe, "When Motorhead played, Lemmy was there for the fans and the fans were there for him. It didn't matter what was happening in the world at that point, because Motorhead was onstage; the crew had everything dialled in, and the crowd were there and lovin' it — all for rock 'n' roll…
Whenever we were on tour, we looked forward to seeing the festival posters with the big MOTÖRHEAD logo on there, and now there's just a big black hole. 'We are Motorhead, and we play rock n' roll', we were so used to hearing that, and when it's not there anymore, it hits you hard… Lemmy meant so much to us, and so much to rock 'n' roll itself…"
It's All for Rock 'N' Roll appears on the band's latest album, Breakin' Outta Hell, which landed in the Top 10 in both the U.K. and the band's native Australia after its September 2016 release.
Also, watch Lemmy's cameo in 2007's Runnin' Wild video from their Runnin' Wild album.