RATT ANNOUNCES SPRING TOUR DATES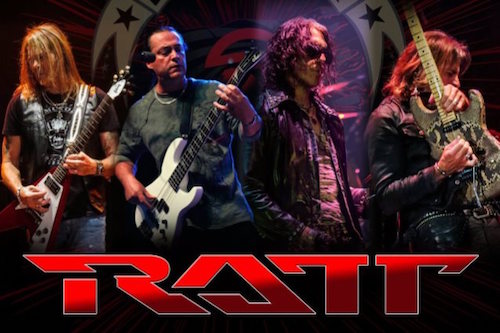 The newly reunited Ratt, featuring three members of the band's classic lineup — singer Stephen Pearcy, bassist Juan Croucier and guitarist Warren DeMartini — has scheduled the following tour dates:
Apr. 26 – The Paramount – Huntington, NY
Apr. 27 – Theatre of Living Arts – Philadelphia, PA
Apr. 28 – The Sherman Theater – Stroudsburg, PA
Apr. 29 – M3 Rock Festival – Columbia, MD
May 28 – Rocklahoma – Pryor, OK
Jun. 1 – Limelight – Peoria, IL
Jun. 2 – Concord Music Hall – Chicago, IL
Jun. 3 – Rockfest – Kansas City, KS
Jul. 7 – Uncle Sam Jam – Woodhaven, MI
Jul. 12 – Rock Fest – Cadott, WI
Pearcy, Croucier and DeMartini played their first official show as the reunited Ratt on February 11th at Treasure Island in Welch, Minnesota. They were joined on stage by former Quiet Riot guitarist Carlos Cavazo, who played on RATT's last studio album, 2010's Infestation, and drummer Jimmy DeGrasso, who previously played with Y&T, White Lion and Megadeth, among others.
Ratt's recent legal troubles over the band's moniker have been well documented, but in November it appears that members DiMartini, Pearcy and Croucier were granted permission to use the name over former bandmate, Bobby Blozter.
In February, Blozter posted the following message to his Facebook page.
"Hey Rattlers:
Just a small bit of info regarding the three bland mice show over the weekend and where things stand on the legal side 🙂
Thing look a lot worse than you think. If those lying thieves or anyone not privy to this knows whats going on, it sure as fk ain't over. It it were, where's the judgement?
PREDICTION: Injunction granted W.B.S. Inc RATT on tour all year.
Can't give it all but, I can say with a true tongue, this is definitely not over. Very good surprises coming.
I saw a video of a couple of songs. Groundhog day.
SOS, Snoor
The Crypt Keeper Pearcy and his 15 year old stage garb,
UGHHHH
Puking
Newz soon. FAHQ
WSJC
BB"