ICON ROB HALFORD, OF JUDAS PRIEST, TO RECEIVE THE "LEMMY LIFETIME ACHIEVEMENT" AT THE LOUDWIRE MUSIC AWARDS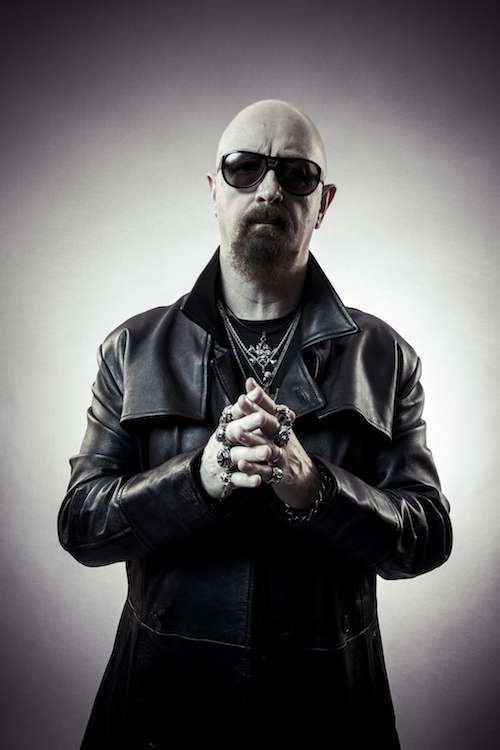 The first-ever Loudwire Music Awards-the ultimate Rock 'N Roll award ceremony and concert-announced today (July 19th) that the GRAMMY Award-winning Rob Halford of Judas Priest, one of rock and metal's most acclaimed and beloved icons, will be this year's recipient of the Lemmy Lifetime Achievement Award.
Also today, the event announced a first wave of live performances from some of the most exciting artists in rock and metal, such as: Ice-T's Body Count, Halestorm, Starset and Power Trip in addition to a special guest performance from Rob Halford as well as others to be announced. Tickets for the rock 'n' roll concert event on Tuesday, October 24 at The Novo in downtown Los Angeles are on-sale starting today, July 19th at loudwireawards.com.
The centerpiece of the night, the Lifetime Achievement Award is named in honor of late Motörhead frontman Lemmy Kilmister. Each year, this award will go to an artist who embodies the spirit of Lemmy and pure Rock 'N Roll. Halford will join Black Sabbath guitarist and fellow heavy metal icon, Tony Iommi-who it was announced last week-will be presented with the Courage Award, which recognizes not only his unparalleled musical output, but his absolute bravery in his battle with cancer. Going forward, these awards will be named the "Lemmy" and "Iommi" respectively and presented to future generations of deserving artists.
"At long last the metal stars are aligned and I'm stoked to attend this year's Loudwire Awards show," says Rob Halford of Judas Priest, the legendary singer famed for his powerful and wide-ranging voice. "I'm excited to shout hails with horns up for all of my friends at Loudwire and all the bands and the fans! It's going to be a hell of a crazy night of good times and major surprises."
Formed in The Midlands, England, in 1969, the GRAMMY Award-winning heavy metal band Judas Priest has sold close to 50 million albums to date. Frequently ranked as one of the greatest metal bands of all time, the band's album British Steel (1980), helped shoot the group to rock superstar status. The group's pioneering sound, with lead vocalist Rob Halford's operatic vocal style and the twin guitar sound of Glenn Tipton and KK Downing as well as their legendary costuming (leather and studs), continues to be widely influential in defining the rock and heavy metal genres. The current line-up of Judas Priest consists of Halford, guitarists Glenn Tipton and Richie Faulkner, bassist Ian Hill and drummer Scott Travis.
Ice-T of Body Count states, "Body Count are excited about performing at this amazing event. Loudwire has always greatly supported us and we can't wait to kick off the show to set the tone right off the bat. It's metal and hard rock's premiere award show and we are coming to tear the Novo up. We've also got some special surprises up our sleeve, so you don't wanna miss out. Body Count's in the house. Let's do this."
Fronted by Ice-T, gangster-metal collective Body Count formed in Los Angeles, in 1990. Co-founded by lead vocalist Ice-T and lead guitarist Ernie C out of their mutual interest in heavy metal, Body Count's musical style derives from the dark, ominous tone of heavy metal bands such as Black Sabbath, as well as faster thrash metal bands such as Slayer, as well as hardcore punk. The band's 1992's landmark self-titled debut sent politicians, parents and law enforcement officials into a proverbial tailspin when it was released unto the world a quarter-century ago. In 2017, the group released their sixth studio album Bloodlust (Century Media Records) which Rolling Stone described as "one of the most over-the-top metal excursions to date." The Loudwire Music Awards will mark Body Count's first Los Angeles-area live performance in over four years.
Lzzy Hale of Halestorm adds, "I'm so looking forward to the Loudwire Awards this year, it's a Rock N' Roll family reunion with all our friends there representing the genres that drive both our horns and hearts."
Grammy-winning hard rock band Halestorm recently released their third EP of cover songs, ReAniMate 3: The CoVeRs eP, produced by Nick Raskulinecz (Foo Fighters, Alice In Chains, Korn). Their most recent full-length album, Into The Wild Life, debuted in the Top 5 on the SoundScan/Billboard 200 upon its release last year while also entering Billboard's "Top Hard Rock Albums" tally at #1–both marked the band's highest chart placement to date. That album is highlighted by the singles, Apocalyptic and Amen, both of which ascended to #1 at rock radio outlets nationwide, as well as the Top 5 Active Rock favorite, I Am The Fire.
Starset is a multi-media, modern rock band that quickly became one of the most successful breakout bands of 2015 when their debut album Transmissions became a mainstay on the radio, sales and streaming charts. Along with multiple hit singles, over 300 million audio streams and nearly one billion YouTube views, their current album Vessels debuted at #11 on Billboard's Top 200 album chart. The album's first single Monster remained on the mainstream rock radio chart longer than any other song so far this year and is currently the #1 most played song on Sirius XM's "Octane" in 2017. Look for the band's new graphic novel being released by Marvel Comics in September.
Hailing from Dallas, Power Trip execute music with raw energy. They've trimmed the fat on every reference they pull from–whether that's Hardcore, Metal or Punk–to make music that actually cuts in 2017. The band has toured the world relentlessly for years. Their musical proficiency, perfect song structure, rich tones, fierce riffs, delivery and collective attitude has seeded them as one of today's most prolific acts in any astute or heavy genre. Nightmare Logic, Power Trip's latest and most powerful effort yet was released earlier this year on Southern Lord. Highly anticipated, their sophomore release earned towering marks across the board including critical acclaim from the likes of NPR, The New Yorker and Pitchfork who described their "fist-pumping choruses, ricocheting grooves, and ample charm are so animated that they leave us with something addictive and, well, fun."
As previously announced, WWE superstar Chris Jericho will serve as host for the event, and Loudwire.com readers will be able to vote in several awards categories, including Album and Song of the Year, beginning on August 15th, 2017.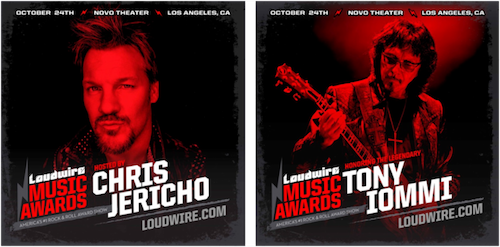 Rob Halford photo credit: Travis Shinn