CHRIS JERICHO TO HOST THE LOUDWIRE MUSIC AWARDS ON OCTOBER 24TH IN LOS ANGELES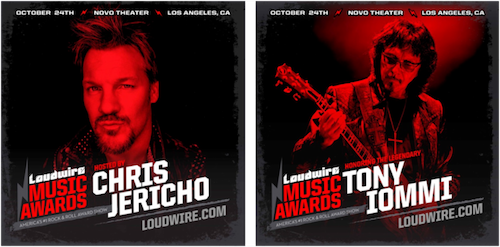 The first-ever Loudwire Music Awards ceremony and concert will debut in Los Angeles this fall. The Rock N' Roll event will take place on Tuesday, October 24th at The Novo Theater ­­­­at L.A. Live in downtown Los Angeles. The preliminary lineup, featuring exclusive concert performances, will be announced Wednesday, July 19th, and tickets and VIP packages will go on sale at 10:00 AM PT the same day.More information and tickets will be available at loudwireawards.com.
The show will be hosted by acclaimed actor, wrestler, musician, author, TV personality and podcaster Chris Jericho, who has established himself as a multi-faceted performer with millions of fans worldwide. "I'm so stoked to reclaim my crown as the greatest rock 'n' roll awards show host of all time," exclaims Loudwire Music Awards host Chris Jericho. "The Loudwire Music Awards is gonna be the biggest awards show in American heavy metal history, with the biggest bands, biggest performances, biggest trophies and the biggest bar tabs since Lemmy left this mortal coil! So all you Earthdogs, Hellrats and Rivetheads get ready to rock out as we paint the town none more black on October 24th, 2017."
Loudwire.com readers will be able to vote in several awards categories, including Album and Song of the Year, beginning on August 15, 2017. The centerpiece of the night will be a special award that honors one of heavy metal's greatest icons, Black Sabbath guitarist and the architect of the entire heavy metal genre, Tony Iommi. Tony will be presented with the Courage Award, which recognizes not only his unparalleled musical output, but his absolute bravery in his battle with cancer. Going forward, this award will be named the "Iommi" and presented to future generations of courageous artists.
Tony Iommi, whose own hand served as the original mold for the official Loudwire Music Awards "Hand Of Doom" trophy that will be presented to all winners and honorees, states, "Of all the funny things that I've done in my life — this was another one. I was asked if I would do a mold of my hand so that they could make it into an award … I was very honored. I was asked to put my arm into this big bucket full of this colored gel, all was going fine until it set and then I found that I couldn't get my arm back out! My hand started to cramp up and I thought 'Oh no, what now?' Anyway, after a considerable amount of pulling and twisting it eventually came out and the cast looked amazing, so much detail, I'm really looking forward to seeing the finished award. Thanks Loudwire, what's next?" See the video below.
This new, must-attend event for Los Angeles will be the ultimate Rock N' Roll award ceremony and concert. Loudwire Music Awards attracts the biggest names in the world of rock and will celebrate artists that have imprinted themselves on generations of rock fans. The inaugural Loudwire Music Awards will be held at The Novo in downtown Los Angeles on Tuesday, October 24th and is proudly sponsored by Blacklight Media, BMG, Century Media, Eagle Rock Entertainment, Eleven Seven Music, Metal Blade Records, Musicians Institute, Razor & Tie, Rise Records, Roadrunner Records and Spinefarm Records
A part of Townsquare Media, Loudwire.com is one of the leading rock and heavy metal websites in the world, with more than 1.3 million Facebook fans, 580,000 YouTube channel subscribers and more than 175 million lifetime YouTube views. Townsquare Media is also home to Loudwire Nights, a syndicated radio show that airs weeknights on 30+ active rock radio stations across the United States.