VINNIE MOORE AND GUS G. LOCKED AND LOADED FOR "GUNSLINGERS" TOUR 2017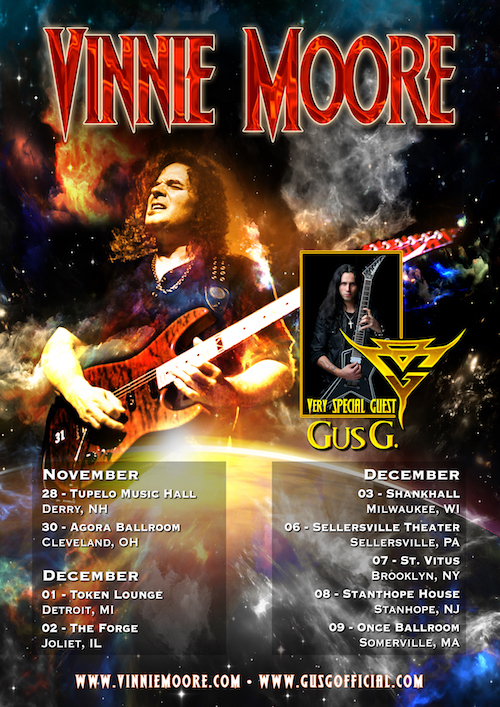 Guitar wizards Vinnie Moore (UFO) and Gus G. (Firewind, Ozzy Osbourne) will hit the road for some shows together in November and December, 2017. This is Moore's first solo tour since 2015, and will mark the first time these two powerhouse players have toured together. The show will feature music from both guitarists' impressive catalogs.
"Gus and I met years back in Greece. I brought him up onstage to jam a couple tunes with me and we had a great energy together and had a blast. I knew that night that I would like to do some shows with him at some point. He's a very talented guitarist. Am really looking forward to some 'gunslinging' with Gus"
Gus comments, "Touring with Vinnie Moore is yet another dream come true for me. His album Mind's Eye has had a huge impact on me as I consider it somewhat as a shred guitar "bible." I spent countless hours learning his licks as a teenager. We met and got to jam few years ago and have become good buddies since. I'm looking forward to returning to the US and playing guitar for you & sharing the stage with Vinnie. See you soon."
Tour dates are as follows:
November 2017:
28 Derry, NH Tupelo Music Hall
30 Cleveland, OH Agora Ballroom
December 2017:
1 Detroit, MI Token Lounge
2 Joliet, IL The Forge
3 Milwaukee, WI Shank Hall
6 Sellersville, PA Sellersville Theater
7 Brooklyn, NY St. Vitus
8 Stanhope, NJ Stanhope House
9 Somerville, MA Once Ballroom
Visit the following for updated info:
vinniemoore.com
gusgofficial.com
facebook.com/Vinnie.Moore.Official
facebook.com/officialgusg
From his first release Mind's Eye in 1987 through 2015's Aerial Visions, Vinnie Moore has set the standard for instrumental guitar albums by delivering soulful songs that feature his signature crackling guitar solos along with memorable melodic lines.
Gus G.'s latest album Brand New Revolution was recorded with Jay Ruston (Stone Sour, Anthrax, Steel Panther, etc.) and mixed by Mike Fraser (Metallica, AC/DC, Van Halen, Aerosmith, etc.) and featured various vocalists including Mats Leven (Candlemass), Elize Ryd (Amaranthe), Jeff Scott Soto (x-Yngwie, TSO), Jacob Bunton (Alder, Lynam).
Brand New Revolution entered the sales charts in his native Greece at # 18, in Japan (International artists chart) at # 44, in Belgium at # 69 (Wallonia) and at # 187 (Flemish), additionally reaching the following results in the USA: #22 (New Artist), #87 (Indie Chart) and #37 (Hard Music). The album is available at the following outlets: