GUITARIST VINNIE VINCENT WEARS MAKEUP AT CHILLER THEATRE APPEARANCE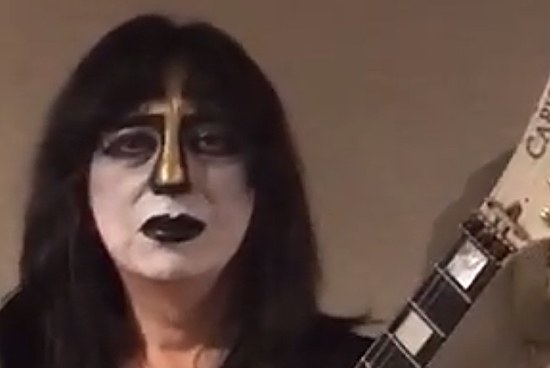 According to blabbermouth.net, former KISS guitarist Vinnie Vincent donned a variation of the "Ankh Warrior" makeup for his appearance at this past weekend's Chiller Theatre event in Parsippany, New Jersey.
The original "Ankh Warrior" ancient Egyptian motif was created by Paul Stanley, KISS's lead singer and rhythm guitarist. Vincent wore the makeup with KISS while on tour in support of the band's 1982 album Creatures Of The Night, on which he played lead guitar on six songs prior to becoming an official member of the band. After that, he remained with KISS for one additional album, Lick It Up recorded in 1983, before being fired from the band for alleged unethical behavior.
Vincent was the last member of KISS to wear a unique makeup/costume configuration until he and the rest of KISS were first shown without the makeup during an interview on MTV in September 1983.
Vincent has made several public appearances this year after spending the past two decades out of the public eye. He recently addressed rumors about his gender identity but declined to answer the question directly, explaining that he wanted to keep a mystique about the subject. He also said that he hopes to complete his autobiography "within a year."
Vinnie's comeback concerts will take place December 7th and December 8th in Memphis, Tennessee at the Theatre at Graceland. They will mark Vincent's first return to the stage in over 30 years.