OZZY OSBOURNE SAID HE WAS "NOT ALLOWED TO [ANY] HAVE FUN" WHILE TOURING WITH BLACK SABBATH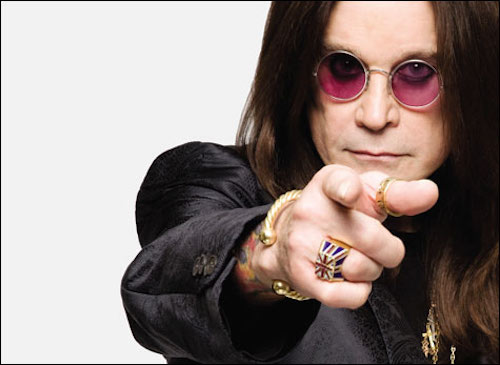 Jake Chessum of Rolling Stone has written a feature story on Ozzy Osbourne. Portions of the column appear below.
…For the past 50 years, Ozzy Osbourne has been heavy rock's MVP. He gave metal a sense of menace during his first 10-year tour of duty with Black Sabbath, approximating the sound of a nervous breakdown on songs like Paranoid and Iron Man. Then as a solo artist, he redefined the genre in the Eighties, picking up the pace of his songs and injecting them with baroque noir. He introduced the world to a pantheon of guitar heroes, including Randy Rhoads, Jake E. Lee and his longtime foil, the blond-maned dynamo Zakk Wylde. He became a concert draw and provided crucial stages for everyone from Metallica to Korn in their infancies. In the mid-Nineties, he concocted Ozzfest, hard rock's answer to Lollapalooza.
And he's reaped the rewards. All but two of his studio albums — which contain anthems like Crazy Train, Flying High Again and Shot in the Dark — have been certified gold or platinum, and he's won a Grammy for I Don't Want to Change the World. When Rolling Stone picked the 100 Greatest Metal Albums of All Time in 2017, the list contained more recordings by Ozzy than any other artist. And don't forget, he was able to translate his success into reality-TV megastardom on The Osbournes.
"I never thought I'd make it this far," he says. "Fifty years is a lot. I don't understand why I'm alive still after the hell-raising days. I guess whoever the man is upstairs, if there even is one, wants me to stick around."
[When Ozzy first launched a solo career after being fired from his original band Black Sabbath] his [music started to] climb the charts. Meanwhile, Black Sabbath carried on with former Rainbow frontman Ronnie James Dio as their lead vocalist, and Ozzy embraced the competitive spirit. "I started a war with them and they just got all f–king pissed off," he recalls. "I admired Ronnie Dio at the end of the day. He had a great voice and was a good singer. They should have had a go at me, but they all just got pissed off. It was more like a divorce, really." Within a few years, he was seriously outpacing his former bandmates in sales…
…Although he seemed to enjoy Black Sabbath's farewell tour when it was happening, Ozzy says now it wasn't the case. "With Sabbath, all I am is a singer with a band," he says on his day off. "This is a different thing. I've got a lot of freedom and I have fun with it."
"[I'm} not allowed to have f–king fun with Sabbath," he continues. "It's too serious. Tony [Iommi] was trying to have a go at me, saying, 'Don't fucking talk over my solos.' I go, 'OK, are you sure? 'Cause most of the f–king song is solos. The intro to the song is f–kin' five minutes and then I sing for about two seconds and then it's another one.' With my own thing, I'm looking to have fun, and that's what music's about for me. I'm not a serious f–king singer. I'm just a frontman who's trying to get the crowd going in front…"
…"I'd like to do another album with Zakk if I could." Ozzy currently has a handful of song ideas that he's just sitting on for the right time. "There's one called Mr. Armageddon, which is gonna be a good song," he says. And what will it be about? "What do you think? It's not about Christmas. It's a nice, sweet little song about a man called Mr. Armageddon" Ozzy laughs…
…"I had no idea when we did our first Black Sabbath album, 50 years up the road, I'd be doing all these shows in front of 20,000 people…," he [says]. "I thought, 'This will be good for a couple of albums and I'll get a few chicks along the way.' I left Sabbath and I did a great thing on my own. I met Randy Rhoads. He was a phenomenal guy. My life has just been unbelievable. You couldn't write my story; you couldn't invent me."
Read the entire article at Rolling Stone.
source: rollingstone.com