VH1 CLASSIC'S "THAT METAL SHOW" BECOMES "THAT CLASSIC ROCK SHOW" WITH MICK JONES OF FOREIGNER AND LESLIE WEST OF MOUNTAIN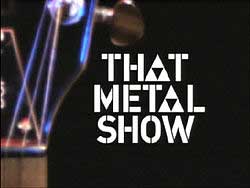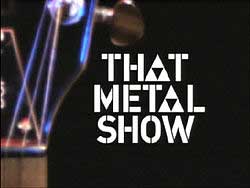 VH1 Classic's centerpiece in original programming That Metal Show returns this week for its seventh episode of Season 13 on Saturday, March 1st at 11:00PM ET/PT. The acclaimed hard rock and heavy metal talk show is hosted by Eddie Trunk, Don Jamieson, and Jim Florentine. This week's episode takes a unique turn grabbing two of the biggest names in classic rock: Mick Jones, chief songwriter and founder of one of the most successful rock bands ever, Foreigner, and Leslie West of the formidable hard rock band, Mountain. Mick Jones gives an update on all things Foreigner and recounts how surreal it was when the band became one of the biggest bands in the world upon their very first album release. Leslie West, the first TMS Woodstock alum, shares his east coast wit and charm and generously gives Eddie Trunk a kick ass gift. We also see Mick and Leslie "Put It On The Table" with some surprising answers.
Guitar legend Lita Ford stops by to perform as the guest musician making her the first female performer to take over the job in the show's 13 seasons. Lita Ford also holds the distinction of being the first-ever guest on "That Metal Show" and discusses having both crowns to her name. In addition to these show firsts, Lita wows the crowd with her riffing ability and shows why she is still a favorite to this day.
Episode 7 of the latest season features a Metal Modem segment connecting the hosts with Marty Friedman, former guitar ace of Megadeth. Marty checks in from his home in Japan and gives an update on his latest projects including dropping hints that he will embark on his first tour of the US in some time. The always fan favorite Stump The Trunk segment knocks the recently victorious Eddie Trunk back down a few spots, even though Eddie's own attorney wasn't able to stump him.
Since the January 18th premiere of Season 13, "That Metal Show" continues to bring their audience the biggest names in hard rock and heavy metal. A number of guests are confirmed for the upcoming episodes including Mick Mars of Mötley Crüe, The Winery Dogs, and Vinnie Paul, formerly of Pantera. Also confirmed to appear this season will be original Kiss members Ace Frehley & Peter Criss, and guitar genius Joe Satriani. Dee Snider has also been added to the list of guests coming up this season.
Known for having the best musicians in music perform each week on That Metal Show, Season 13 continues the trend with the likes of these TMS alums: Charred Walls of the Damned drummer Richard Christy, Trans-Siberian Orchestra guitarist Chris Caffery, Cinderella front man Tom Keifer, and the guitar virtuoso Yngwie Malmsteen. Each of these artists will make the new season the most musically diverse and rockin' of shows in "That Metal Show" history.
This season marks some monumental changes for the show as it returns to New York City for Season 13. Previously, the show was taped over several days of one week out at Sony Studios in Los Angeles. The new season is shot at Metropolis Studios on Tuesday nights for broadcast that Saturday. Season 13 also consists of 12 new episodes making it the longest season in the show's history. Fans can also catch the complete season 12 and brand new exclusive bonus clips at ThatMetalShow.VH1.com and in the new VH1 app. New episodes of season 13 launch on the web and in the app every Sunday morning following the show's on-air premiere.