VAN HALEN SUES ALEX'S EX-WIFE FOR USING THEIR LAST NAME IN A NEW BUSINESS VENTURE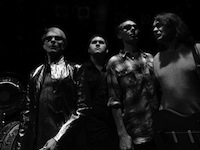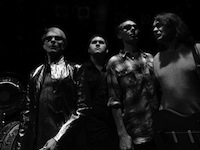 Eriq Gardner of The Hollywood Reporter reports:
When famous people marry, their spouses often take on a famous last name. That benefit can even survive divorce. But can it be used as a commercial asset?
Witness a new lawsuit by ELVH Inc., which is the intellectual property holding company of the world-famous rock band Van Halen. The group was eponymously named after its family members — guitarist Eddie Van Halen and drummer Alex Van Halen (bassist Wolfgang Van Halen, Eddie's son, came into the fold in 2006, replacing Michael Anthony).
In 1984, Alex married Kelly Carter. Twelve years later, he divorced Kelly Van Halen. Now, nearly two decades after the divorce papers were finalized, ELVH is taking Kelly Van Halen to a California federal court over her use of her name in trade. Specifically, Alex Van Halen's ex-wife has named her construction and interior design company after herself, which the plaintiff asserts is a trademark infringement.
Way back in 1891, the U.S. Supreme Court ruled, "A man's name is his own property, and he has the same right to its use and enjoyment as he has to that of any other species of property. If such use be a reasonable, honest, and fair exercise of such right, he is no more liable for the incidental damage he may do a rival in trade than he would be for injury to his neighbor's property by the smoke issuing from his chimney, or for the fall of his neighbor's house by reason of necessary excavations upon his own land."
The question here is whether senior family name users like Eddie and Alex can permanently enjoin junior family name users like Kelly from using "Van Halen" in a commercial enterprise. The outcome might depend on whether it can be shown that Kelly had intent to trade upon the goodwill or reputation of the famous band's moniker.
In the lawsuit, Kelly is said to have filed two trademark applications on "Kelly Van Halen" for products like chairs, children's blankets, bathing suits, building construction, interior design services and more.
The band is opposing the trademarks on the ground that the mark — her real name — is "confusingly similar to Plaintiff's VAN HALEN Marks in sound, appearance and commercial impression."
It's also asserted that goods in the apparel and fashion space "are either identical or closely related to the goods sold by Plaintiff," and that Kelly Van Halen is diluting Van Halen, passing off Van Halen and committing unfair competition for Van Halen.
ELVH is represented by the law firm of Kinsella Weitzman.
additional source: Billboard