SLAYER'S TOM ARAYA DISCUSSES THE BAND'S CURRENT LINE UP AND NEW MUSIC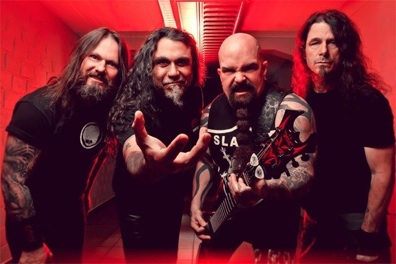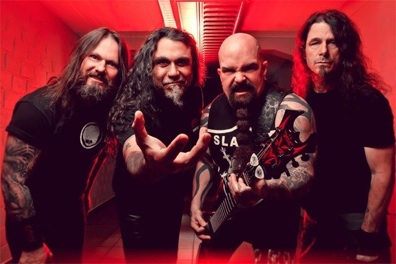 Slayer frontman Tom Araya has spoken about the band's new album, potential fan backlash and the singer doesn't seem too worried right now.
"They've experienced Slayer with Gary [Holt, guitar], and everybody's experienced Slayer with Paul [Bostaph, drums] because Paul was part of the band for quite a few years, so it'll be time for everybody to get reacquainted with Paul and acclimated to this lineup," he tells Metal-Rules.com. "Gary has been playing with us for two years now, if you can believe that. People have seen the various pieces, just not all together. Paul's always been a friend. When he left, it was on his terms, and it was no bad feelings at all. Paul felt he needed to move on and it wasn't on bad terms and to have him back and playing in the band is awesome. It's like we're taking up where we left off with Paul and he's amazing. He's full of energy, he's excited to be back and he's excited to be part of Slayer again.
"So it makes for very energetic shows and very exciting times. This is gonna be good. Like I said, everybody is going to be reacquainted with Paul and everybody knows Gary has been filling in, now it's just a whole different circumstance knowing that Jeff [Hanneman, guitar] has passed. I'm sure everyone will enjoy it. Paul is very energetic and excited, which makes everybody else excited. It'll be good and it will allow closure for everybody."
Gary has been filling in on guitar duties for two years now, with Jeff Hanneman's shocking passing earlier this year. Paul Bostaph – who has had two prior stints with the band – has replaced Dave Lombardo, who sensationally quit the fold while on tour in Australia.
Tom Araya has, however, already confirmed that we'll likely be seeing some of Jeff Hanneman's final work on the Slayer album.
"I haven't had the privilege of going through [Jeff's] audio files at the moment, but that's something I plan to do," Tom tells name Loudwire. "Once we get some business squared away, that's something I plan to do; to go through his music and see what he has.
I know that he had several ideas together that he had presented to us in the course of the past year. Before he passed away, there was one complete song that he had managed to send to everybody that I listened to and that I thought was really, really good and communicated that to him. There's stuff that I thought would be great to listen to just to see what's there and how we can possibly use what he had done. That's something I have every intention of doing."
additional source: metalhammer.co.uk