VAN HALEN PERFORM "PANAMA" AND "RUNNIN' WITH THE DEVIL" ON "JIMMY KIMMEL LIVE!"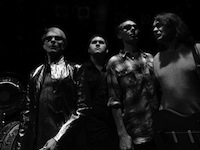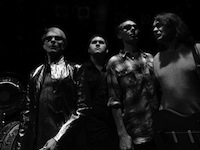 As previously reported, Van Halen performed live on Jimmy Kimmel Live! last night (March 30th). Watch their performances of Panama and Runnin' With The Devil below.
Kimmel stated that six thousand fans lined up on Hollywood Boulevard to see the band. Unfortunately, Roth reportedly had to call an abrupt stop to Panama, when he announced that he had injured his nose on his microphone. "Let me get this taped up," Roth said, making an apologetic exit from the stage. "How do I look? Like fucking Hiawatha, right?" Roth joked.
The band is promoting their new live concert album, Tokyo Dome Live In Concert, which is out today (March 31st). Van Halen have also announced tour dates starting July 5th in Seattle, WA and wrapping up on October 2nd in Los Angeles, CA. To view their entire tour schedule, please click here.
Also, in honor of Van Halen appearing on the show that night, Kimmel asks during a man-on-the-street segment, "Do you have a Van Halen tattoo?"
Van Halen will be back tonight on Jimmy Kimmel Live! for their second night of a two night appearance on the show.