VAN HALEN'S "LIVE: RIGHT HERE, RIGHT NOW" TO MAKE VINYL DEBUT ON RECORD STORE DAY, FEATURES THREE LIVE TRACKS NOT INCLUDED ON THE ORIGINAL RELEASE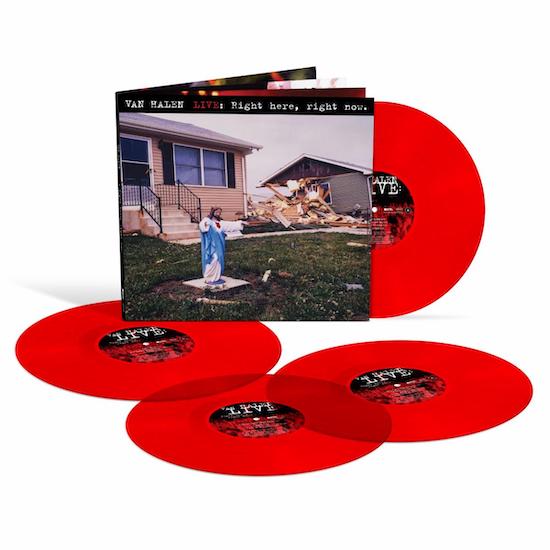 Van Halen's first live album – 1993's double-platinum Live: Right Here, Right Now – will make its vinyl debut on Record Store Day as a limited edition 4-LP set. Recorded in May 1992 as the band was wrapping up their massive world tour in the support of their classic, triple-platinum album For Unlawful Carnal Knowledge, the collection finds singer Sammy Hagar, guitarist Eddie Van Halen, drummer Alex Van Halen, and bassist Michael Anthony firing on all cylinders and delivering over two hours of Van Halen's signature hits.
Live: Right Here, Right Now will be limited to 7,500 copies on 180-gram translucent red vinyl and available exclusively at select independent music retailers on April 22nd for $99.98.
The vinyl collection has all 24 songs from the original CD release, plus three additional live recordings. This marks the first time that audio for two of the tracks (The Dream Is Over and Eagles Fly) will be released, as they were previously available only on the DVD version of Live Right Here, Right Now. The third, Mine All Mine, was recorded in the summer of 1993 during the second leg of the tour and was previously released as part of a European CD maxi-single for a live version of Jump. All tracks from the original live album were newly remastered from the 5150 studio master tapes by Bernie Grundman, who also cut the lacquers.
The new vinyl version of Live: Right Here, Right Now is the first Van Halen reissue that focus on the Sammy Hagar-era. It also launches a series of upcoming vinyl releases spotlighting Van Halen's time with Hagar, which will be overseen by the band's long-time engineer Donn Landee. Additional information about those releases will be announced in the coming months.
Live: Right Here, Right Now debuted 30 years ago, on February 23rd, 1993. The collection peaked at #5 on the Billboard 200 chart and sold more than two million copies in the U.S. alone.
The group filmed and recorded Live: Right Here, Right Now across two shows at the Selland Arena in Fresno, California on May 14th-15th, 1992. The result was a concert album packed with exhilarating live versions of Hagar-era hits like Why Can't This Be Love, Dreams, When It's Love, Finish What Ya Started, Right Now, and Runaround. The album also includes live versions of earlier Van Halen anthems like Panama, Ain't Talkin' 'bout Love, and Jump.
Live: Right Here, Right Now gives each band member a chance to shine with Alex Van Halen's pummeling drum solo, Michael Anthony's "Ultra Bass" solo, and Hagar's acoustic version of his solo hit Give To Live. One of the show's biggest highlights is Eddie Van Halen's ripping guitar solo. For more than 10 minutes, he lives up to his reputation as the ultimate guitar god with a solo that touches on some of his best-known instrumentals: 316, Cathedral, and Eruption.
Live: Right Here, Right Now 4-LP Track Listing:
LP1: Side A:
1. Poundcake
2. Judgment Day
3. When It's Love
4. Spanked
LP1: Side B:
1. Ain't Talkin' 'bout Love
2. In 'n' Out
3. Dreams
4. Man On A Mission
LP2: Side C:
1. Ultra Bass
2. Pleasure Dome / Drum Solo"
3. Panama
LP2: Side D:
1. Love Walks In
2. Runaround
3. Right Now
4. One Way To Rock
LP3: Side E:
1. Why Can't This Be Love
2. Give To Live
3. Finish What Ya Started
4. Best Of Both Worlds
LP3: Side F:
1. 316
2. You Really Got Me" / "Cabo Wabo
LP4: Side G:
1. Won't Get Fooled Again
2. Jump
3. Top Of The World
LP4: Side H:
1. The Dream Is Over
2. Eagles Fly
3. Mine All Mine