ULI JON ROTH ANNOUNCES 2024 "INTERSTELLAR SKY GUITAR" TOUR DATES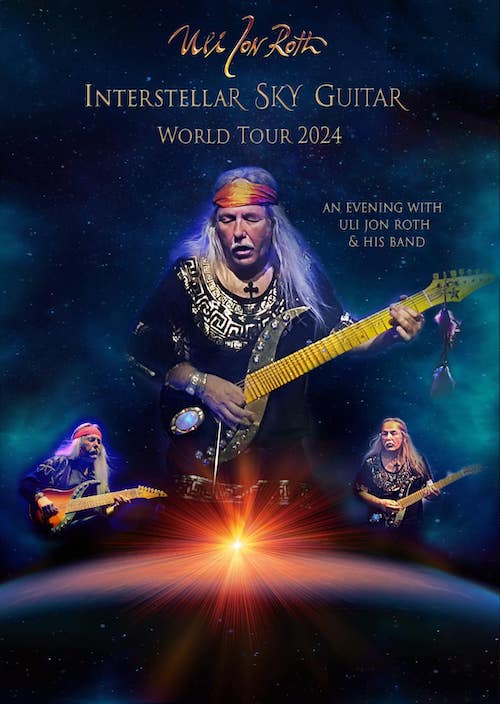 Legendary German guitarist Uli Jon Roth has announced his exclusive 2024 Interstellar Sky Guitar world tour. The three-hour-plus integrated multi-media show will be split into two parts with an intermission. The first half of the concert will feature a wide gamut of new and old pieces written by Uli, including excerpts from Vivaldi's Four Seasons and Uli's Metamorphosis Concerto. It will also include a brief TED talk by Uli introducing his new book In Search Of The Alpha Law.
The second part of the concert will synchronize with the worldwide vinyl release of all three Electric Sun albums, alongside all five Uli-era Scorpions albums. This will see Uli perform a breathtaking set with his full band, showcasing songs from each Electric Sun album, as well as tracks from his time with the Scorpions. It's set to be an unforgettable experience for all Uli and Electric Sun enthusiasts.
Uli's signature tool of expression is the legendary Sky Guitar which he invented. The name of the tour Interstellar Sky Guitar is reflecting the fact that we are celebrating 40 years since the first one of these ground-breaking instruments were built. The tonal range of Sky Guitars far exceeds that of traditional guitars, effectively turning the electric guitar into a six-octave instrument as opposed to the three-and-a-half octave ones which are industry standard. The ingenious, striking body-shape of Sky Guitars which makes the extra frets possible enables Uli to equal the registers of the violin and the cello. The main stars of the evening are the state-of-the-art "Excalibur" seven-string Sky Guitar, alongside Uli's famous "Mighty Wing."
2024 tour dates:
Apr. 2 – Mesa, AZ The Venue @ The Canyon
Apr. 3 – Hollywood, CA @ Whisky A Go Go
Apr. 4 – Ramona, CA @ Ramona Mainstage
Apr. 5 – San Juan Capistrano, CA @ The Coach House
Apr. 6 – Concord, CA @ Vinnies
Apr. 7 – Santa Rosa, CA @ The Flamingo Resort
Apr. 12 – Seattle, WA @ Tractor Tavern
Apr. 13 – Portland, OR @ Bossanova Ballroom
Apr. 18 – Hobart, IN @ Hobart Arts Center
Apr. 19 – St. Charles, IL @ Arcada Theater
Apr. 20 – Chicago, IL @ Reggies
Apr. 21 – Detroit, MI @ Token Lounge
Apr. 24 – Sellersville, PA @ Sellersville Theater
Apr. 25 – Fall River, MA @ Narrows Center for The Arts
Apr. 26 – Derry, NH @ Tupelo Music Hall
Apr. 27 – New York, NY @ Iridium
Apr. 28 – New York, NY @ Iridium
May 1 – West Yarmouth, MA @ The Music Room
Born in Düsseldorf, Germany in 1954, Uli rose to fame as a teen-ager in the early 1970s as the lead guitarist for the Scorpions. During his five-year tenure with Germany's most famous band, Uli developed a unique and revolutionary approach to guitar playing, incorporating classical music and advanced improvisational techniques. He went on to form his own band, Electric Sun, and continued to push the boundaries of guitar playing with his innovative use of the six-octave Sky Guitar that he invented.
Uli is mainly known for his groundbreaking contributions to the vocabulary of electric guitar playing. He is regarded as one of the last living protagonists of pure, classic melodic rock guitar from the era of the Sixties and Seventies. Uliis now widely acknowledged as belonging to a rapidly dwindling handful of notable players who are still active and can still transport the magical aura of that glorious era of rock in live concerts on the stages of this world. Over the years, Uli has influenced generations of younger guitarists — including many name players such as Eddie van Halen, Yngwie Malmsteen, Steve Vai, Joe Satriani, Billy Corgan and Kirk Hammett — and he is seen as one of the great innovators in his genre. Uli revolutionized the scope of expression of his favorite instrument by being the first to introduce sophisticated virtuoso violin techniques and many other new ideas into the guitar vocabulary.
Uli is also a prolific composer who has written and performed symphonic music with orchestras. He has also released several important solo albums throughout his career, featuring a diverse range of musical styles. He continues to tour the world and record, inspiring generations of musicians with his unparalleled creativity and passion for music.