SLASH SAYS HE WILL BE RELEASING ANOTHER SOLO ALBUM, FEATURING DIFFERENT SINGERS, NEXT YEAR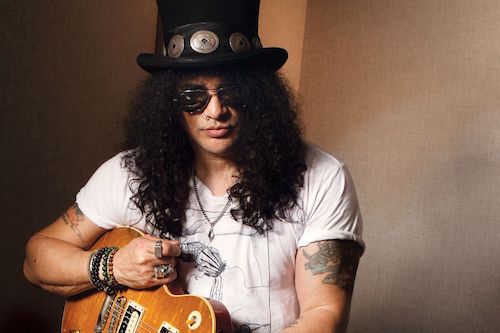 Lyndsey Parker of Yahoo Music wrote a feature column on Guns N' Roses guitarist Slash, portions of the article appear below.
…Slash just played guitar on a new version of Sorry Not Sorry for Revamped, [singer Demi] Lovato's forthcoming collection of rock remakes of her old pop hits, and he exclusively reveals that the two have also recorded a track for an all-star album that he plans to release in 2024…
…Slash and Lovato first worked together on his upcoming second solo album, which he describes as having "a bunch of different singers" and being "sort of similar to my first solo record" (which featured Fergie, Adam Levine, Ozzy Osbourne, Dave Grohl, Lemmy Kilmister, Chris Cornell, Nicole Scherzinger, and other A-listers) but "more blues-oriented." After Slash invited Lovato to sing on that record and their duet was a success, "I told her, 'Hey, if you ever need me to put some guitar on something, just let me know and I'll do it!' And so she hit me back about two weeks, three weeks later, and said she's got this song that she's doing a remake of and asked if I'd put some guitar on that…"
Slash is keeping mum about the details of his forthcoming star-studded solo LP. "You're the first person. I'm not telling any more. You're the first person I've even said it to." he chuckles. "It's been totally under wraps, but it's definitely coming out next year. … There's not really much more to tell you at this point, but [Lovato and I] definitely recorded something. Her [album Revamped] is way different than mine. It's a completely different type of a song, so it's interesting how diverse her voice can be."
Other top-secret projects Slash currently has in the works are "a TV series with a production company in the U.K." about a book he just optioned, and a "movie that is based around a rock band. It's a horror movie and that's actually something I avoid, because the first scripts I always get are rock-related horror scripts. But there's a really good one that I'm involved with that is just around a band, and it has some music throughout it. … It should be out next year, and it is fictional. That's all I can say at this point."
Read more at Yahoo.
As previously reported, Guns N' Roses are currently out on tour, with special guests Carrie Underwood, The Pretenders, Alice In Chains, The Warning and Dirty Honey.
Remaining dates are as follows:
Jul. 22 – Athens, Greece – Olympic Stadium
North American dates:
Aug. 5 – Moncton, NB – Medavie Blue Cross Stadium (with Carrie Underwood)
Aug. 8 – Montreal, QC – Parc Jean Drapeau (with Carrie Underwood)
Aug. 11 – Hershey, PA – Hersheypark Stadium (with The Pretenders)
Aug. 15 – East Rutherford, NJ – MetLife Stadium (with The Pretenders)
Aug. 18 – Pittsburgh, PA – PNC Park (with The Pretenders) ^
Aug. 21 – Boston, MA – Fenway Park (with The Pretenders)
Aug. 24 – Chicago, IL – Wrigley Field (with The Pretenders)
Aug. 26 – Nashville, TN – GEODIS Park (with Carrie Underwood)
Aug. 29 – Charlotte, NC – Spectrum Center (with Dirty Honey)
Sep. 1 – Saratoga Springs, NY – Saratoga Performing Arts Center (with Dirty Honey)
Sep. 3 – Toronto, ON – Rogers Centre (with The Pretenders)
Sep. 6 – Lexington, KY – Rupp Arena (with Dirty Honey)
Sep. 9 – St. Louis, MO – Busch Stadium (with The Pretenders)
Sep. 12 – Knoxville, TN – Thompson-Boling Arena (with The Warning)
Sep. 15 – Hollywood, FL – Hard Rock Live (with The Warning) *
Sep. 17 – Atlanta, GA – Midtown Music Festival *
Sep. 20 – Biloxi, MS – Mississippi Coast Coliseum (with Dirty Honey)
Sep. 23 – Kansas City, MO – Kauffman Stadium (with Alice In Chains)
Sep. 26 – San Antonio, TX – Alamodome (with Alice In Chains)
Sep. 28 – Houston, TX – Minute Maid Park with Alice In Chains)
Oct. 1 – San Diego, CA – Snapdragon Stadium (with Alice In Chains)
Oct. 6 – Indio, CA – Power Trip Festival *
Oct. 8 – Sacramento, CA – Aftershock Festival *
Oct. 11 – Phoenix, AZ – Chase Field (with Alice In Chains)
Oct. 14 – Seattle, WA – Climate Pledge Arena ^ (support act to be determined)
Oct. 16 – Vancouver, BC – BC Place (with Alice In Chains)
^ Newly added date
*Not a Live Nation date