TWISTED SISTER, ANVIL, RAVEN, THE RODS & OTHERS TO PLAY BENEFIT SHOW IN NEW JERSEY FOR VICTIMS OF HURRICANE SANDY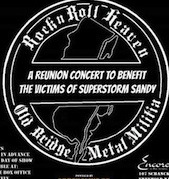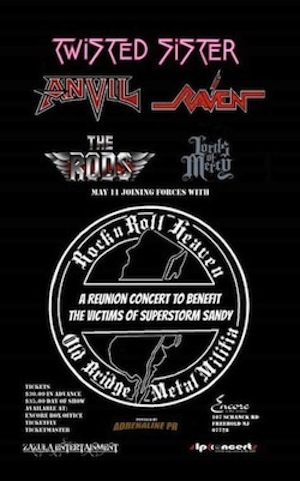 Rock N' Roll Heaven and the Old Bridge Metal Militia recently announced their highly-anticipated Reunion Concert and Fundraiser to benefit the victims of Superstorm Sandy. It can now be announced that Twisted Sister and a reunited TT Quick have been added to the already stellar line-up of Anvil, Raven, The Rods and NJ local metal band Lords of Mercy.
Twisted Sister guitarist/manager Jay Jay French states, "Playing this show further demonstrates our commitment to our fans and friends in the tri-state area that were affected by Superstorm Sandy. Twisted Sister look forward to a great night of metal, solidarity and, most importantly, much needed financial aid to the great state of New Jersey. Thank you Jon and Marsha Zazula for having us."
The event will take place on May 11th, 2013 at Encore Event Center in Freehold, NJ (106 Schanck Rd).
Tickets are available now at Ticketmaster and Ticketfly. Get them now.
Advance Tickets are $30 // $35 Day of Show
Our very own Eddie Trunk will perform Master of Ceremonies duties with special guest hosts and an all-star jam to be announced. Doors will open at 7:00pm and there will be a drinking section for those 21+.
R N' R Heaven and OBMM ask all attendees to bring canned goods or non-perishable food items for a food drive which will benefit local area soup kitchens and shelters.
Stan Levinstone, President of SLP comments, "Johnny was the purveyor. He was like the Steve Jobs of the metal world, really innovative. He had a vision of hardcore and metal that spread throughout New Jersey and then nationally and internationally. He definitely had a vision; he saw something that no one else saw. A lot of important rock grew out of Jersey. He brought these bands and his record label to a level of national and international attention. All of this stuff started right here in Old Bridge and East Brunswick, NJ. The embryonic days of New Jersey's metal scene, he took that and developed it into something so significant. New Jersey's scene developed an international scene. This event supports a great cause and will bring together a scene Johnny helped to create. People will be nostalgic about it and want to experience this together."
Jon Zazula adds, "Stan Levinstone has been a great help in putting this event together. We're grateful for his involvement."
New Jersey birthed heavy metal in the United States in the early 1980's. The state of New Jersey was an integral part of launching the careers of these bands, as well as everyone from Bruce Springsteen to The Misfits to Bon Jovi and more.
This is an event to benefit the victims of Superstorm Sandy, which wreaked havoc on the Jersey Shore and on the lives of its residents.
Superstorm Sandy has left dozens dead and thousands homeless – making it the worst storm in the regions history. This is a 100% non-profit event.
Please invite your friends, family and neighbors.