GLENN HUGHES CONFIRMS BCC IS OVER, SAYS JOE BONAMASSA WON'T LET THEM USE THE NAME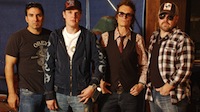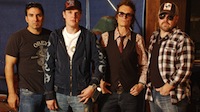 Black County Communion frontman Glenn Hughes says the band "is over" because guitarist Joe Bonamassa has left, and won't let the remaining members keep using the name.
The classic rock outfit released three acclaimed studio albums before internal tensions boiled over, with Hughes last year revealing he was thinking of quitting because he wanted to play live, and Bonamassa insisted he wasn't available.
That led to a series of public outbursts in which the two musicians took pot-shots at each other before both said they were ready to "move on."
They appeared to calm down later and said they were talking to each other again. But Bonamassa continued to insist he'd always said he wouldn't have time to tour in support of 2012 album Afterglow – while Hughes, drummer Jason Bonham and keyboardist Derek Sherinian suggested they'd been led to believe otherwise before the record was recorded.
Earlier this month the blues axeman said he was "happily not involved any more" and revealed he'd become disillusioned during their 2011 tour because he found it "very tense."
In reponse, Hughes tweeted, "Just so it's crystal, BCC is over. Joe left and will not allow us to keep the name. Nice, huh? Jason, Derek and I will continue when the time is right."
He added, "I have my hands full writing my first solo rock album in five years." Hughes says he began writing tracks on March 21st, and he reflects, "I choose happiness and have nothing but love to offer. Everything is the way it's meant to be."
Last year producer Kevin Shirley told Classic Rock that a series of disagreements had almost led to the band's third album never happening. But he remained confident that, given time, the dust would settle.
He said, "You can't take away the fact that these are the ultimate rock stars, and there must be something about that rub that makes the music amazing. There will be another record. I would guess we'll record it in early 2015 – look for it in October 2015."
additional source: classicrockmagazine.com