TRIXTER RETURNS WITH NEW ALBUM "HUMAN ERA" OUT IN JUNE, TOUR DATES ANNOUNCED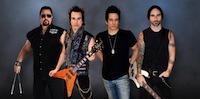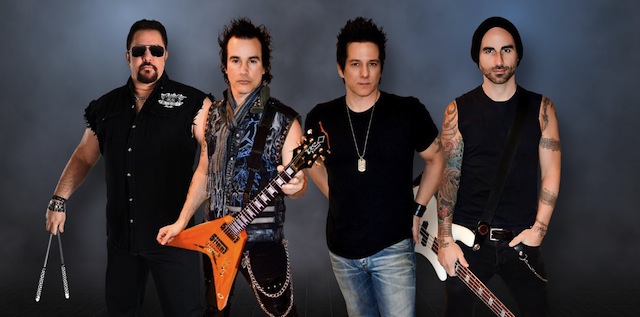 Frontiers Music Srl is thrilled to announce the release of the new studio album from good-time rock n' rollers, Trixter entitled Human Era on June 5th in Europe and June 9th in North America.
Following on the heels of the successful comeback album, New Audio Machine – a record chock full of rocking anthems, Trixter are returning stronger than ever.
"After the success of our last album, New Audio Machine, we felt more confident than ever in making another top notch album. I'm so proud to say that after more than 25 years of making records, Trixter is getting better and better. Human Era will show the world this band at it's finest," says lead guitarist Steve Brown.
The new album sees Trixter sticking to their guns and delivering 11 new choice cuts, with a sound reminiscent of their earlier work which they were well known for in the '90s. For fans new to Trixter, their sound fits in nicely to an album collection next to Bon Jovi, Def Leppard, Van Halen, AC/DC and even 70's classic rock mainstays.
"Almost 30 years together and the band is tighter than ever! We are family and that makes everything we do more and more special. The title track Human Era really sheds insight into our story," concludes Steve Brown.
Enjoy the first video single and album opening song Rockin' to the Edge of the Night – a true and instant classic from the band. Watch it bellwo
Human Era track listing includes:
1. Rockin' To The Edge Of The Night
2. Crash That Party
3. Not Like All The Rest
4. For You
5. Every Second Counts
6. Beats Me Up
7. Good Times Now
8. Midnight In Your Eyes
9. All Night Long
10. Soul Of A Lovin' Man
11. Human Era
12. Always a Victim (Acoustic version – bonus track iTunes)
13. Road of a Thousand Dreams (Re-recorded version – bonus track iTunes)
Tour dates:
*Fri May 1st- M3 Festival, MD
*Sun May 3rd-Stanhope House NJ Album Preview Party & Live Set from the band
For more information, visit trixterrocks.com .
Northern New Jersey's Trixter's self-titled debut album (1990) spawned three monster hit singles/videos with Give It To Me Good, One in a Million and Surrender, as well as an RIAA-certified Gold album. Trixter has toured extensively in the United States, Canada and Japan. They have performed in arenas and amphitheaters and have appeared live on numerous television and radio programs such as Entertainment Tonight, Pay-Per-View, VH-1, MTV, Z-Rock and MetalShop. TRIXTER has shared the stage with such rock heavyweights as KISS, Boston, Scorpions, Poison, Cinderella, Warrant, Slaughter, Winger, Skid Row, Firehouse, Stryper, Dokken and more. The band recently nabbed the #29 spot on VH-1's "Top 40 Hair Bands of All Time" countdown.
Trixter is Pete Loran (lead vocals/rhythm guitar), Steve Brown (lead guitar/harmonica/backing vocals), P.J. Farley (bass/backing vocals) and Gus Scott (drums/percussion/backing vocals).