"THAT METAL SHOW" RETURNS THIS WEEK WITH A HISTORIC JAM SESSION BY KIRK HAMMETT AND MICHAEL SCHENKER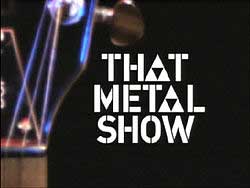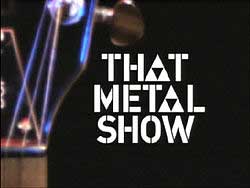 Episode 9 of season 14 of VH1 Classic's centerpiece in original programming That Metal Show marks another first for the critically acclaimed talk show. Ever since Kirk Hammett first picked up the electric guitar he dreamed of jamming one day with Michael Schenker. Well TMS makes it happen and the world's most recognized heavy metal guitarist, Kirk Hammett, jams live on stage with UFO/Scorpions guitar legend, Michael Schenker, during this week's episode. Hammett flew in for the sole purpose of appearing alongside his guitar idol on the show hosted by Eddie Trunk, Don Jamieson, and Jim Florentine. As Hammett states in two recent tweets this week on his twitter account, "Today I was in fanboy hero worship mode w/ @MW Schenker Thanks @ThatMetalShow!" and later adding, "Still wrapping my head around yesterday. Jamming w/ my guitar idol Michael Schenker, it was a mind bending, a truly inspirational experience!". During the interview, both Kirk and Michael discuss their current projects, and Hammett updates us on the status of the next Metallica project. During the TMS Top 5 where the hosts discussed their Top 5 Michael Schenker UFO-era Songs, Hammett includes his Top 6 picks as well.
The episode features the debut of Damon Johnson from Black Star Riders as the guest musician who discusses the new Black Star Riders record and his time playing with Thin Lizzy. Johnson wows the crowd by showcasing his lap steel guitar playing abilities and lives up to the challenge of playing in front of Hammett and Schenker, leaving them impressed with his abilities. Johnson also tweeted about his experience on the show on how he felt watching the guitar legends play, "Not a bad way to spend a Tuesday afternoon…"
This week's Rank segment finds Hammett ranking his favorite Metallica albums in order. Kirk even declares if bassist Cliff Burton had been alive for the …And Justice For All recording Cliff's bass lines would have been heard throughout the album, a common complaint about that album. Eddie fights through another "Stump The Trunk" segment this week, but Ms. Box Of Junk Jen makes a few appearances. This week's Throwdown puts UFO's legendary live album Strangers In The Night against Thin Lizzy's Live And Dangerous. The hosts, guests, and audience are split evenly down the middle when the dust settles after the two-minute debate.
Fans can watch all previous episodes, exclusive bonus clips and the new That After Show segment at ThatMetalShow.VH1.com and on the new VH1 app.
Audience tickets for upcoming tapings are now available via Gotham Casting at gothamcasting.com/gothamrsvp/.