TRIUMPH US FESTIVAL 40TH ANNIVERSARY SPECIAL EDITION PACKAGE ANNOUNCED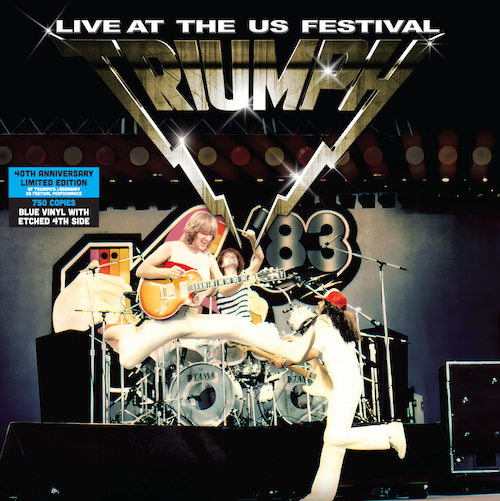 May 29th, 1983 will forever be an important day in the history of heavy metal. After all, it was on this date that the world's top metal acts (Van Halen, the Scorpions, Triumph, Ozzy Osbourne, Judas Priest, Mötley Crüe and Quiet Riot) shared the stage on "Heavy Metal Sunday" at the mammoth US Festival. And to celebrate the 40th anniversary of this legendary concert, one of the day's standout performers, Triumph, will be issuing the double-LP, Live at the US Festival. The set will only be available via the official Triumph merch store – and specifics about the set include:
• Double-LP, gatefold sleeve including never before seen photos
• Etching of the iconic Never Surrender thunderbird logo on the 4th side
• Remastered for vinyl at the legendary Metalworks Studios
• Limited to 750 copies, comes in either black, red, or blue vinyl
• Fans who buy from the official Triumph merch store will receive a US Festival special podcast featuring new interviews with Rik Emmett, Gil Moore, Mike Levine, Mike Primeau, Harry Witz, John Roberts, Wayne Webster and more.
To celebrate the 40th Anniversary of their US Festival performance and the new release on Limited Edition Vinyl, Triumph is hosting a special viewing of the concert on the official Triumph YouTube Channel on May 25th (9:00 P.M Eastern and 6:00 P.M Pacific Time).
Fans will be able to join a group chat while the video is streamed and watch it together. Also, ALL three band members, Mike, Rik and Gil, will join the chat, say hi to the fans and answer a few questions.
 
"Playing on the 'Heavy Metal Sunday' was just amazing for us," recalls Triumph bassist Mike Levine. " It was really neat playing without our big production. We killed it. The band was hotter than a pistol. That day will always be locked in my memory – flying in on the chopper and looking at the endless amount of people and going, 'What have we got ourselves into here?!'"
 
Between 1975-1988, Triumph – singer/guitarist Rik Emmett, singer/drummer Gil Moore, and Levine – rocked the world, and in the process, gave us countless classic hard rock anthems (Fight the Good Fight, Hold On, Magic Power, Lay It On the Line, A World of Fantasy, etc.) and albums (Just a Game, Progressions of Power, Allied Forces, Never Surrender, Thunder Seven, etc.). 
  
But it was the trio's show-stopping performance at the US Festival that remains one of the greatest performances of their career. And now, fans can revisit it from start to finish with the killer Live at the US Festival set. 
 
Live At The US Festival tracklist:
 
Side 1:
1. Allied Forces
2. Lay It On The Line
3. Never Surrender

Side 2:
4. Magic Power
5. A World Of Fantasy
6. Rock And Roll Machine
 
Side 3:
7. When The Lights Go Down
8. Fight The Good Fight
 
Side 4:
Etched with Triumph's Never Surrender Thunderbird logo