NEW MR. BIG TOURING DRUMMER, NICK D'VIRGILIO, DISCUSSES HOW GOT THE JOB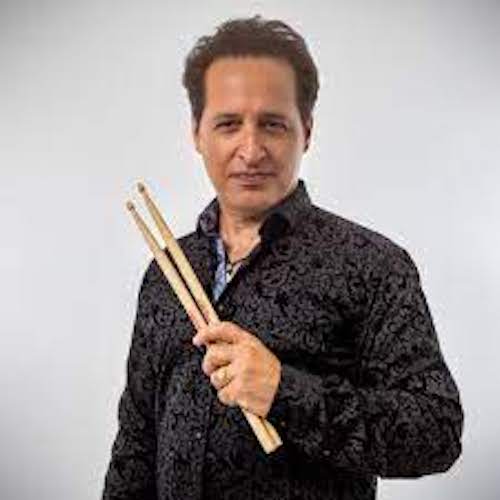 Nick D'Virgilio spoke with Border City Rock Talk to talk about he landed the position as Mr. Big's new touring drummer, five years after the passing of the band's co-founder, Pat Torpey, Excerpts from interview, (as per blabbermouth.net), appear below.
D'Virgilio, who has spent the last nine years working for the Indiana-based online retailer of music instruments and audio gear, Sweetwater, said, "It stemmed through Sweetwater. I've known [guitarist] Paul[Gilbert] Paul was the one guy I knew most. I met [late drummer] Pat [Torpey], and I met [bassist] Billy [Sheehan]-Gosh — at a music trade show back in the day. And I was definitely a fan of the band. I listened to a lot of Pat's drumming way before I ever met him in person. But at Sweetwater, we do a lot of recording workshops and we get artists in to come and people pay to come to the studio and hang in the studio with the artists that come in. Paul does it quite a bit; he's been there a bunch. Billy was there a while back as well, but Paul's been there a number of times. And I've been able to play as his rhythm section for these recording workshops. And I also had Paul play on a song on my solo record called Invisible that I put out in 2020. Through all of this stuff, we got to just jamming some more stuff. And I know Paul through [drummer] Mike Portnoy and [singer] Neal Morse and a lot of circles of musicians. After the last thing we did at Sweetwater, Paul just sent me an e-mail and asked if I would be interested in going on tour with Mr. Big in Asia. Now, this was last July, when he first sent me the e-mail, so nine, 10 months ago or so. And I immediately said 'yes'. I think I said 'f–k yes', all in bold letters… So then I went sort of hog wild here in my studio and I videotaped and multi-tracked my drums. I kind of just went hog wild, sending back these demos of me playing and then singing all the parts. So, I sang the lead vocal, and then I sang Pat's parts, too. Since [it was an] audition, I figured I'd put my best foot forward. Long story short, they said, 'Yeah, we'd love you to do it. And you're in,' basically. So that's kind of how it all happened. It came out of the blue."
D'Virgilio went on to say that he is looking forward to performing with the band on their worldwide tour, aptly titled "The BIG Finish," which will take them to Japan and Southeast Asia in July and August, while shows in South America, Europe, and the U.S. will launch in early 2024.
"You've been in this music business for a long time. Especially as you get older, the phone doesn't ring as often," he said. "I live in Indiana now. I'm not in California and L.A. where I grew up. So I have a great job, but I'm not where all the action is all the time. So the phone doesn't ring quite like that, maybe like it used to 10, 20 years ago, so it was super exciting to get that e-mail from Paul."
As a session musician and touring artist, D'Virgilio has worked with many different kinds of artists and bands, from Tears For Fears, Sheryl Crow, Kevin Gilbert to Peter Gabriel and Eric Burdon and the Animals. In 1996, D'Virgilio took Phil Collins's place in Genesis and played on their Calling All Stations album. He has also carved out a major presence in the progressive rock world with his bands, Spock's Beard and Big Big Train.