TOMMY LEE SAYS THAT MICK MARS' HEALTH IS ONE OF THE REASONS WHY MOTLEY CRUE WILL RETIRE FROM TOURING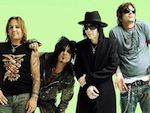 Tommy Lee has revealed the deteriorating health of guitarist Mick Mars is one of the reasons Motley Crue are hanging up their boot straps.
The veteran band have announced their intention to retire from touring soon and drummer Tommy Lee says, "The farewell tour is next. This will be it. Our guitar player, Mick, he has a spinal disease that's slowly fusing his vertebrae together. It's one of those things that's treatable, but not curable."
The guitarist has famously suffered from ankylosing spondylitis since he was 17 and had hip-replacement surgery in 2004.
"So it's just progressively getting really worse and it's painful for him, so he doesn't wanna tour much longer. I can't say I blame him… The last thing we ever wanna do is go out running on two cylinders with some hired guy playing guitar; that's just wack. So we wanna go out with one big hurrah with the original guys and be done with it."
Speaking on a videotaped 'Coffee Run' ride with Canadian progressive-house music producer and performer Deadmau5 Lee adds, "That's such a bad look when bands are still playing the fucking fairgrounds — those county-fair shows — and it's just like two of the original guys, or one original guy, and the rest, no one knows who they are. We don't wanna do that.
We want to go out on top. We don't want to be one of those bands that people are like, 'Oh, they're playing a little club now.' We still sell out arenas and do stadium shows and stuff like that, and that's how we want to be remembered."
Motley Crue recently returned to Las Vegas for an exclusive twelve-show engagement September 18th through October 6th at The Joint at Hard Rock Hotel & Casino.
additional source: classicrockmagazine.com