TO CELEBRATE IT'S 30TH ANNIVERSARY, POISON RELEASE LIMITED EDITION PICTURE DISC OF "LOOK WHAT THE CAT DRAGGED IN"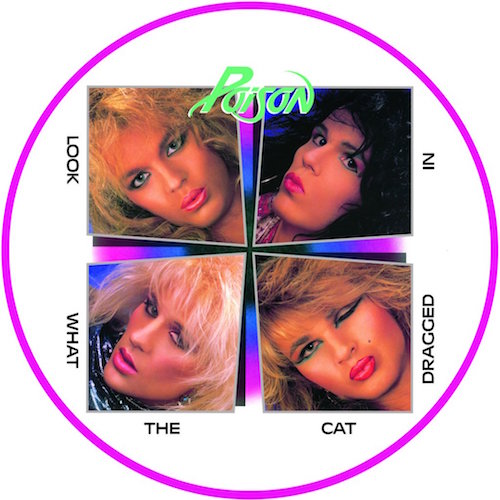 To commemorate the 30th anniversary of Poison's debut album, Look What The Cat Dragged In, Universal Music Enterprises (UMe) has created an exclusive picture disc LP featuring the classic album cover printed on white vinyl. Limited to 1000 copies worldwide and packaged in a heavy-weight clear plastic sleeve, the record is exclusively available now through uDiscover US.
Comprised of founding members Bret Michaels, Rikki Rockett, Bobby Dall and C.C. DeVille, Poison is one of hard rock's truly iconic and enduring bands with sales of over 50 million globally with 15 million in the U.S. alone. Released on May 23rd, 1986, Look What The Cat Dragged In introduced the world to the band's Sunset Strip sound and became a surprise success. Launched with the single Cry Tough, the album went on to spawn three charting hits: Talk Dirty To Me, I Want Action and I Won't Forget You. The album peaked at #3 on the Billboard 200, went gold in a year and was triple platinum by the end of the decade. To date it has sold more than four million copies worldwide.
Look What The Cat Dragged In track listing:
Side A
1. Cry Tough
2. I Want Action
3. I Won't Forget You
4. Play Dirty
5. Look What The Cat Dragged In
Side B
6. Talk Dirty To Me
7. Want Some, Need Some
8. Blame It On You
9. #1 Bad Boy
10. Let Me Go To The Show