MOTLEY CRUE'S "THE END – LIVE IN LOS ANGELES" AVAILABLE ON MULTIPLE FORMATS ON NOVEMBER 4TH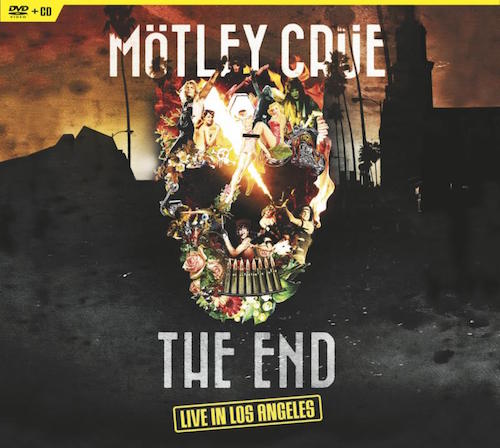 On December 31st, 2015, before a sold-out Staples Center arena in Los Angeles, Mötley Crüe bid their final farewell. Their 35-year career as a band ended with a spectacular New Year's Eve performance in their hometown, just a few miles from where it all started on the Sunset Strip.
Mötley Crüe: The End – Live In Los Angeles – presented earlier this year in theaters worldwide – captures performances of such mega-hits as Kickstart My Heart, Girls, Girls, Girls, Smokin' in the Boys Room, and Dr. Feelgood. Eagle Rock Entertainment brings the show home on DVD+CD, Blu-ray+CD, and Digital Formats on November 4th [MSRP $26.98 Blu-ray+CD, $21.98 DVD+CD]
In January 2014, Mötley Crüe signed a binding legal document known as "cessation of touring" agreement, preventing them from touring under the band's name past the year 2015 — the first of its kind. This was followed by their two-year Final Tour, performing across five continents (North America, South America, Europe, Australia and Asia), with 164 shows in 72 markets and grossing over $100 million.
Produced and distributed by Eagle Rock Entertainment, Mötley Crüe: The End fully captures the energy and emotion of the evening. Known for their over-the-top production, Mötley Crüe did not disappoint for their last show ever on New Year's Eve: from massive, cutting-edge pyro, including Nikki Sixx's bass guitar spitting fire over 30 ft. into the air, and Tommy Lee's "Crüecifly" drum roller coaster, amongst many other spectacular elements. Lead singer, Vince Neil, delivered an emotional, "thank you" speech to the audience, while the band supplied next-level, high-octane fueled energy, ringing in the New Year on stage with thousands of balloons raining down on the crowd. The grand finale of the show included a blow-out performance of their hit single, Kickstart My Heart with Nikki Sixx and Vince Neil floating above the audience in far-reaching "cherry-pickers." Leaving fans in tears, the show concluded with an emotional encore rendition of Home Sweet Home from the second stage riser in the center of the audience. The CD includes audio tracks of the live performances from this show.
Mötley Crüe: The End – Live In Los Angeles represents a fitting end to a legendary career and the culmination of the rock icons' 35-year career, in one special, explosive night.
Mötley Crüe: The End – Live In Los Angeles Track Listing:
1. Intro
2. Girls, Girls, Girls
3. Wild Side
4. Primal Scream
5. Same Ol' Situation (S.O.S)
6. Don't Go Away Mad (Just Go Away)
7. Rock N Roll Part II / Smokin' In The Boys' Room
8. Looks That Kill
9. Mutherf***** Of The Year
10. In The Beginning / Shout At The Devil
11. Louder Than Hell
12. Drum Solo*
13. Guitar Solo*
14. Saints Of Los Angeles
15. Live Wire
16. T.N.T (Terror 'N Tinseltown) / Dr. Feelgood
17. Kickstart My Heart
18. Home Sweet Home
*not included on CD portion
For more information, visit motley.com.