THREE DECADES LATER, METALLICA'S LARS ULRICH AND KIRK HAMMETT REMINISCENCE ABOUT "RIDE THE LIGHTNING"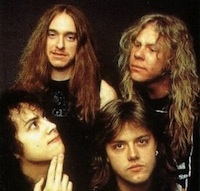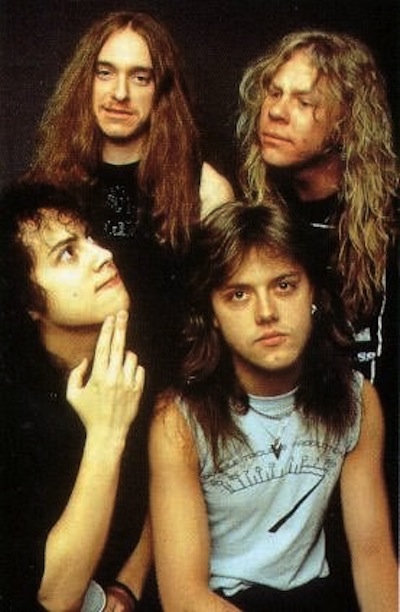 Kory Grow of Rolling Stone spoke with Metallica band members Lars Ulrich (drums) and Kirk Hammett (guitar) and production assistant Flemming Rasmussen about the band's second album, Ride the Lightning, which is three decades old. Portions of the interview appear below.
RS: Where did the title Ride the Lightning come from?
Kirk Hammett: I was reading The Stand by Stephen King, and there was this one passage where this guy was on death row said he was waiting to "ride the lightning." I remember thinking, "Wow, what a great song title." I told James, and it ended up being a song and the album title.
RS: How complete were the songs when you began recording?
Jirk Hammett: Three or four months prior to recording Ride the Lightning, we would do these small, theater shows where we would play were Creeping Death, Ride the Lightning, Fight Fire With Fire and The Call of Ktulu. Those songs were about 90 percent complete, in terms of arrangement and the guitar solos were already written.
Lars Ulrich: We were hovering in New York in December and January of '83 and '84, and we wrote quite a bit of Fade to Black in New Jersey in the basement of our friend Metal Joe [Chimienti].
RS: Songs like Fade to Black, For Whom the Bell Tolls and Escape were more melodic and slower than the songs on Kill 'Em All. Were you trying to do something different, musically?
Lars Ulrich: It was the first time that the four of us wrote together and we got a chance to broaden our horizons. I don't think it was a conscious effort to break away from anything musically. Obviously, listening to songs like Fight Fire and Trapped Under Ice, we were obviously still into the thrash type of stuff. But we were realizing you had to be careful that it didn't become too limiting or one-dimensional.
All four of us were so into so many different things. And Kill 'Em All was primarily written with James and I and Mustaine; so Kirk and Cliff didn't really contribute to any of the songs on Kill 'Em All. Ride the Lightning was the first time that both Cliff and Kirk got a chance to add what they were doing. They just came from a different school, especially Cliff, who came from a much more melodic approach.
RS: What was Cliff [Burton] like in the studio?
Flemming Rasmussen: He was a one of a kind. It was the Eighties, and everyone was doing the punk thing with tight pants, but he was still wearing bellbottoms. He didn't give a shit what people thought about him. He was a good musician, really nice on a personal level and a good poker player. As a bassist, he was more like a soloist than a regular bass player. The first time I recorded him, I tried all sorts of shit to make him feel comfortable, because he was used to the live environment. Eventually, I put his amp in another room, and he'd play in the main room like he was onstage, with the sound blasting from these speakers. It was pretty wild. I liked him a lot. It was a sad day when he died [in a bus accident while on tour in 1986].
RS: Thirty years later, how does the album hold up in your opinion?
Lars Ulrich: Obviously it holds up very well. There's kind of a youthful energy that runs through the record [laughs]. A good portion of these songs are still staples of our live set. And between For Whom the Bell Tolls, Creeping Death, Fade to Black, and Ride the Lightning, that's not a bad batting average.
Kirk Hammett: I thought playing it in full at Orion was great. That album holds up really well. I love the sound of that album. It's very analog. I think it's our warmest-sounding album. By the time we recorded Master of Puppets, the days of just bashing it out were much fewer than in the Ride the Lightning days. Just bashing it out always led to a more natural sounding performance to me.
Read more at Rolling Stone.
source: rollingstone.com