THE WINERY DOGS SPECIAL EDITION & DELUXED EDITION OF SELF-TITLED DEBUT ALBUM OUT TODAY; HEADLINING TOUR CONTINUES APRIL 30TH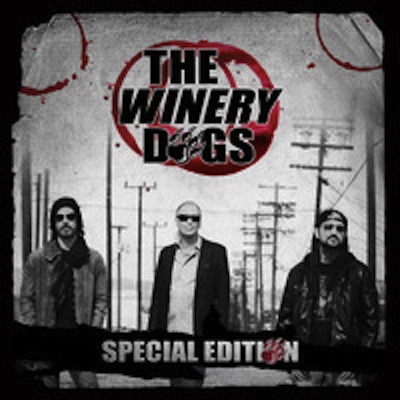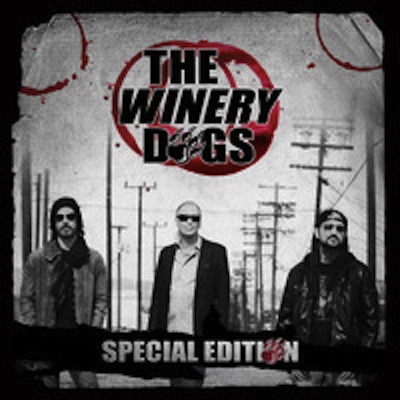 The Winery Dogs (Mike Portnoy, Billy Sheehan and Richie Kotzen) released their self-titled, self-produced and critically acclaimed debut album in North America on Loud & Proud Records today as two very special editions.
The Winery Dogs special edition is comprised of two-CDs. Disc one is the standard album and Disc two is entitled Unleashed In Japan 2013, comprised of 10 songs recorded live in Japan during their July '13 tour, including Criminal, a track previously unavailable in the U.S., along with a 16-page booklet of live photos and lyrics. Unleashed In Japan 2013 is also available as a stand-alone digital album. Dog Treats: The Winery Dogs Deluxe Special Edition, a limited edition release, is being sold in a box resembling a box of dog treats, and includes the special edition collection of music, a DVD featuring four music videos and interview footage, demos from the original recording sessions, a "studio diary" written by Mike Portnoy, as well as some unique merchandise unavailable elsewhere. Portnoy recently gave fans a glimpse inside the packaging of the DOG TREATS on Revolver magazine's website.
After The Winery Dogs was originally released on July 23, 2013 on Loud & Proud Records, it debuted on Billboard's "Top Alternative Albums" chart at #3, "Top Independent Albums" chart at #4, "Top Rock Albums" chart at #5, "Top Internet Albums" at #8 and "Top 200 Albums" chart at #27.
The Winery Dogs tour dates:
4/30 Englewood, NJ Bergen Performing Arts Center
5/2 Ridgefield, CT Ridgefield Playhouse
5/3 New Brunswick, NJ State Theater
5/4 Jim Thorpe, PA Penn's Peak
5/6 Londonderry, NH Tupelo Music Hall
5/7 Alexandria, VA Birchmere Music Hall
5/9 Atlanta, GA Variety Playhouse
5/10 Charlotte, NC Amos Southend
5/11 Winston-Salem, NC Ziggy's
5/14 Ft. Lauderdale, FL Culture Room
5/15 Largo, FL Largo Cultural Center
5/16 Jacksonville, FL Freebird Live
5/18 Little Rock, AR Juanita's
5/20 Fort Smith, AR Neumeier's Rib Room & Beer Garden
5/24 Dallas, TX Granada Theater
6/24 Ramona, CA Ramona Mainstage
6/26 San Juan Capistrano, CA Coach House
6/27 Beverly Hills, CA Saban Theater
6/28 Agoura Hills, CA Canyon Club
6/30 San Francisco, CA Yoshi's
7/1 Oakland, CA Yoshi's at Jack's London Square
7/26 Buffalo, NY The Tralf
7/28 Amityville, NY Revolution Bar & Music Hall