THE WINERY DOGS' SELF-TITLED ALBTM DEBUTS At #5 ON BILLBOARD'S "TOP ROCK ALBUMS" & #27 ON THE "TOP 200 ALBUMS" CHART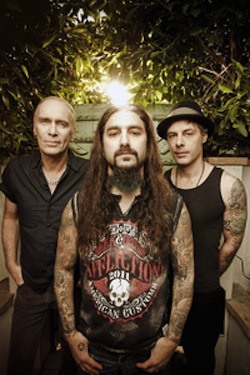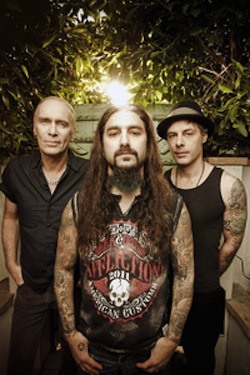 The Winery Dogs (@TheWineryDogs) is sending a huge thank you to their loyal fans in North America for giving their critically-acclaimed self-titled debut album a strong debut on the Billboard charts. Not only did it explode onto the "Top Rock Chart" at #5, it also opens on the "Top 200 Albums" chart at #27.
The power trio–Mike Portnoy (Dream Theater, Avenged Sevenfold), Billy Sheehan (Mr. Big) and Richie Kotzen (Mr. Big, Poison)—self-produced The Winery Dogs, which was released July 23rd on Loud & Proud Records. The album has been hailed as "…one of the most intriguing releases of the year" by Loudwire.com, and in a recent reader's poll on Revolver magazine's website, fans called it their "Album of the Week."
Success hasn't been limited to the U.S. shores. The Winery Dogs recently kicked off their first-ever tour in Japan and South America to sold-out crowds wherever they played. After one more stop in Buenos Aires on August 1st, they'll head home for their first U.S. shows, starting August 3rd in New York City at B.B. King Blues Club & Grill. While they're in town, on Tuesday, August 6th at 7pm, the band will take part in an in-store signing session at Vintage Vinyl in Fords, NJ. For more information, visit www.vvinyl.com.
Once the first portion of their U.S. trek concludes on August 8th, Portnoy, Sheehan and Kotzen will take a much-deserved break before heading back overseas for their first shows in Europe throughout most of September, which will include stops in England, Germany, Spain, Italy and Portugal. The U.S. tour will start up again on October 3rd in Agoura Hills, CA at the Canyon Club.
Check out The Winery Dogs at any of the following U.S. tour stops:
Sat 8/3 New York, NY B.B. King Blues Club and Grill
Sun 8/4 Lancaster, PA Chameleon
Tue 8/6 Fords, NJ Vintage Vinyl (in-store)
Wed 8/7 Newton, NJ The Newton Theater
Thu 8/8 Chicago, IL Reggie's Rock Club
Thu 10/3 Agoura Hills, CA Canyon Club
Fri 10/4 Las Vegas, NV Vamp'd
Sat 10/5 San Diego, CA Romana Mainstage
Sun 10/6 San Juan Capistrano, CA Coach House
Tue 10/8 Sacramento, CA Harlow's
Wed 10/9 San Francisco, CA Yoshi's