THE OSBOURNES RETURN TO REALITY TV WITH "HOME TO ROOST," DOCUMENTING THE PRINCE OF DARKNESS' RETURN TO ENGLAND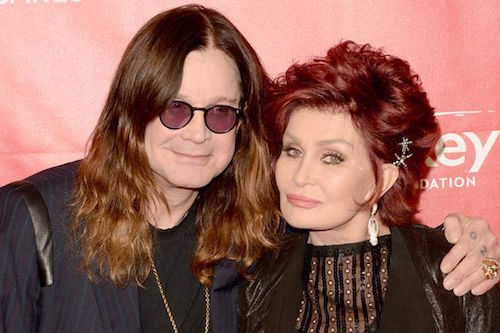 Over twenty years ago, the Osbourne family left Britain for a life in the U.S. and became the globe's most iconic reality TV family when they threw open their doors of their Los Angeles home and let the world in — sharing their bizarre and hilarious life in the fly-on-the-wall show The Osbournes. Now, the world's most entertaining family are returning to their family home in the U.K., pretty much as they left it all those years ago.
Expectation will produce the ten-part series of 30-minute episodes for BBC One and iPlayer. Home To Roost will document Ozzy and Sharon's journey back to Britain, alongside daughter Kelly and son Jack's efforts to support them, as they attempt to re-start their lives in rural Buckinghamshire.
The series will follow the Osbournes as they celebrate one of their most important years yet — with everything from Sharon's 70th birthday to Kelly's soon-to-be-born baby, Ozzy's tour, and of course the big move itself.
This will be a genuine portrait, showing Sharon and Ozzy as they face up to illness and the challenges of getting older, but with the usual Osbourne eccentricities, humor, warmth and love.
Clare Sillery, head of commissioning, documentaries, says, "I'm delighted that the Osbournes will be sharing this next chapter in their lives with BBC viewers in what promises to be a funny, moving and honest insight into their new life in the U.K."
The series is a collaboration between Expectation's Factual and Entertainment teams. Ben Wicks and Colin Barr, creative directors, Expectation, say, "Rejoining the Osbournes as they return to the U.K. is a once-in-a-lifetime opportunity. Twenty years ago, they shaped television for all of us — now they're coming home at a different stage in their lives but with the promise of the same laughter, love and tears. We can't wait to work with them and to share it with BBC One viewers in 2023."
The Osbournes, which became the highest rated original program in MTV's history, started in 2002 and ended in 2005. The show followed the lives of Ozzy and his family, including Sharon's battle with cancer, as well as Kelly and Jack's stints in rehabilitation for drug and alcohol abuse.
The "fly-on-the-wall" TV series was credited with being the first show where cameras followed celebrities around and led to a number of copycats like A&E's Gene Simmons Family Jewels, which followed the life of KISS bassist Gene Simmons and his family, and A&E's Growing Up Twisted, about the family of Twisted Sister frontman Dee Snider.
Osbourne's newest album, Patient Number 9, will be released on September 9th. Listen to the title track here, and Degradation Rules, featuring his Black Sabbath bandmate Tony Iommi, here.