THE DEAD DAISIES ANNOUNCE "THE DIRTY DOZEN TOUR" FOR "LIVE & LOUDER" NORTH AMERICAN TOUR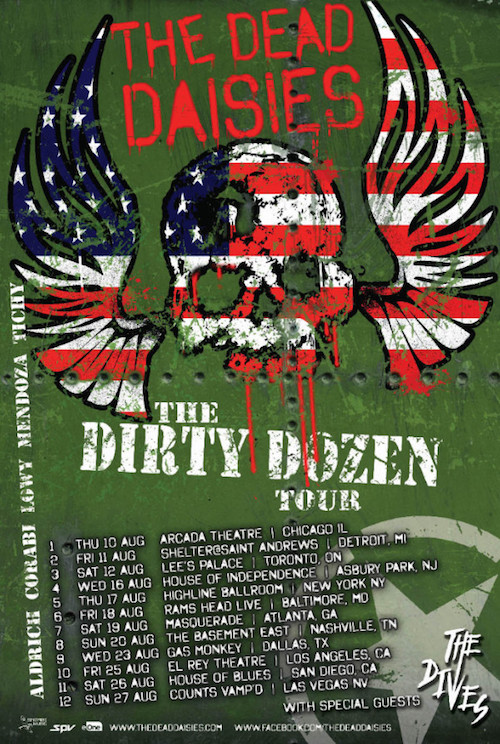 The Dead Daisies' awesome live juggernaut is set to storm into North America in August for a dozen prime live dates as part of their Live & Louder World Tour, in support of the release of their landmark Live And Louder album on Spitfire Music/SPV/eOne on May 19th. Heralded The Dirty Dozen Tour, it will launch in Chicago, IL on August 10th and will wrap in Las Vegas, NV on August 27th.
The Dirty Dozen Tour is inspired by the classic 1960s movie of the same name. "Rehearse them, excite them, arm them – then turn them loose on the Fans." It will be the band's first North American Headline Tour where demand has been steadily building after 2016's smash success of their third album Make Some Noise.
Lead singer John Corabi says, "We're all very excited for our very first North American headline run. We're kicking it all off on August 10th in Chicago and ending it in "Sin City" Las Vegas!!! You guys have been amazing with all of your support and requests for shows here, so we're giving it to you Live And Louder, and "down and dirty" on The Dirty Dozen Tour 2017!!!! See ya on the road kids!!!"
Before being turned loose on North American audiences, the troops will be fresh from playing some of the most prestigious & high profile UK & EU Rock Festivals coupled with a series of headline club shows, dates in Japan to then make their long-awaited debut in South America. From South America it's back to one of the EU's largest Festivals Woodstock Poland, to be part of a "concert inspired by freedom" which will see the band perform with a 60-piece Orchestra.
The Live & Louder – World Tour 2017 will visit the following countries: Germany, Austria, Switzerland, Denmark, Sweden, United Kingdom, Holland, France, Belgium, Hungary, Czech Republic, Japan, Brazil, Argentina, Chile, Mexico, Poland, Canada and the USA.
Live And Louder, will be available in multiple deluxe formats & perfectly captures the awesome vibe of their supreme, sweat drenched, roof-raising live sets, recorded on a heady high at the end of an unbelievable 2016. The result, once again mixed by Anthony Focx (Aerosmith, Bad Company), is an absolute stunner!
Lead guitarist Doug Aldrich has some choice words about the upcoming live album – Live And Louder really helps define The Dead Daisies' sound. Like bands I've been involved with co-producing (Whitesnake and Dio), we have a great team that makes sure our sound is consistent and we are always looking to pump it up. Onstage I just play guitar but our crew and production team are very instrumental in capturing what happens on stage. Now get out there and go Live & Louder with us this summer!!"
Special Guests on this run will be The Dives which the band made instant friends with on the previous years' KISS Kruise and who will add their own blend of signature rock and roll to the fiery package.
Rock & Roll is indeed alive and well!!!
Check out the Make Some Noise – Live & Louder video below.
Line-uP:
Doug Aldrich (Whitesnake, Dio) – Guitars
John Corabi (Mötley Crüe, The Scream) – Vocals
David Lowy (Red Phoenix, Mink) – Guitars
Marco Mendoza (Thin Lizzy, Whitesnake) – Bass
Brian Tichy (Ozzy Osbourne, Foreigner) – Drums
The Dirty Dozen Tour – North America 2017:
August:
10 Arcada Theatre | Chicago IL
11 [email protected] Andrews | Detroit, MI
12 Lee's Palace | Toronto, ON
16 House Of Independence | Asbury Park, NJ
17 Highline Ballroom | New York NY
18 Rams Head Live | Baltimore, MD
19 Masquerade | Atlanta, GA
20 The Basement East | Nashville, TN
23 Gas Monkey | Dallas, TX
25 El Rey Theatre | Los Angeles, CA
26 House of Blues | San Diego, CA
27 Counts Vamp'd | Las Vegas NV
Purchase tickets at thedeaddaisies.com/thedirtydozen.
Europe:
June:
2 Rock Hard Festival | Gelsenkirchen, Germany
3 Rock In Vienna | Vienna, Austria
4 Substage | Karlsruhe, Germany
5 Druso | Bergamo, Italy
6 Dynamo | Zürich, Switzerland
8 Amager Bio | Copenhagen, Denmark
9 Sweden Rock Festival | Solvesborg, Sweden
11 Download Festival | Donington, United Kingdom
12 Liquid Room | Edinburgh, United Kingdom
14 Boerderij | Zoetermeer, Netherlands
16 Le Forum | Vaureal, France
17 Hellfest | Clisson, France
18 Graspop Metal Meeting | Dessel, Belgium
20 Hirsch | Nürnberg, Germany
21 Hellraiser | Leipzig, Germany
23 Harley Days Festival | Hamburg, Germany
25 Bluesiana | Velden, Austria
26 Bluesiana | Velden, Austria
27 Rockhouse | Salzburg, Austria
28 A38 | Budapest, Hungary
29 Lucerna Music Bar | Prague, Czech Republic
July:
1 Freigericht Rockt Festival | Freigericht, Germany
August:
3 Woodstock Poland | Kostrzyn, Poland
Japan:
July:
5 Shibuya Club Quattro | Tokyo, Japan
6 Umeda Club Quattro | Osaka, Japan
South America:
July:
12 Opera de Arame | Curitiba, Brazil (special guest to Richie Kotzen)
13 Carioca Club | Sao Paulo, Brazil (special guest to Richie Kotzen)
15 Vorterix | Buenos Aires, Argentina
16 Teatro Vorterix | Rosario, Argentina
18 Venue tba. | Santiago, Chile
More South American Dates to be announced!