THE 2018 ATLANTA KISS EXPO ANNOUNCES THE APPEARANCE OF GUITARIST VINNIE VINCENT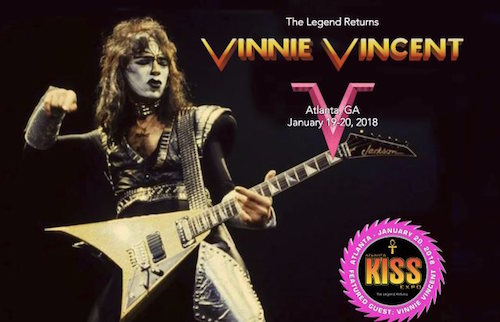 According to their official website, the Atlanta KISS Expo has announced that former KISS guitarist, Vinnie Vincent, will be their special guest, next year.
Vincent will be signing autographs and taking photos during the special VIP Meet & Greet on Friday, January 19th, 2018, as well as all day long at the Atlanta Kiss Expo on Saturday, January 20th, 2018.
The organizers state this will be Vincent's first public appearance in almost twenty years, "We have worked long and hard to secure the legendary Ankh Warrior for the show, and he's been absolutely awesome and is looking forward to meeting all of his fans."
Vincent replaced lead guitarist Ace Frehley in 1982 and played with KISS for two years.