"THAT METAL SHOW" SEASON 12 ANNOUNCE GUEST LINE UP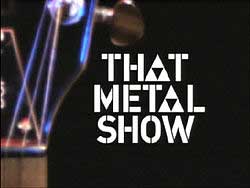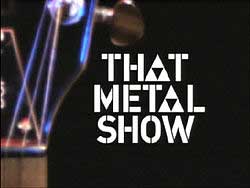 Eddie has announced the line up for season 12 of That Metal Show which starts taping the its new episodes on April 27th in Los Angeles, California.
The guests this season will be:
Jake E Lee / Rick Allen (Def Leppard)
Rex Brown (Pantera) / Sebastian Bach
Scott Gorham (Thin Lizzy) & Ricky Warwick (Black Star Riders) / Neil Fallon (Clutch)
Donald "Buck Dharma" Roeser (Blue Oyster Cult) / Steve Whiteman & Brian Forsythe (Kix)
Jason Newsted / Lemmy (Motorhead)
Scott Rockenfield & Todd LaTorre (Queensryche) / Dave Mustaine (Megadeth)
Tom Keifer (Cinderella) / Rob Zombie & John 5
Joe Satriani / Corey Taylor & Jim Root (Slipknot / Stone Sour)
Guest musicians will be Carmine Appice, Vinnie Appice, Jake E Lee, Richie Kotzen (2 shows each)
As usual guests are subject to change.
That Metal Show season 12 episodes will premiere on June 1st at 11PM ET on VH1 Classic. Check your local listings.