"THAT METAL SHOW" HOSTS INTERVIEW WITH HNGN POSTED ONLINE, READ EXCERPTS HERE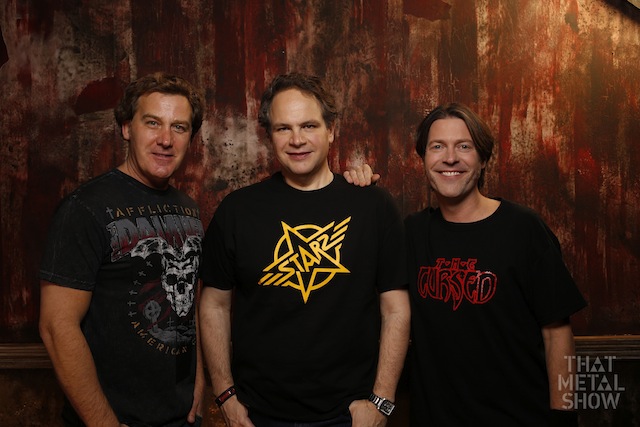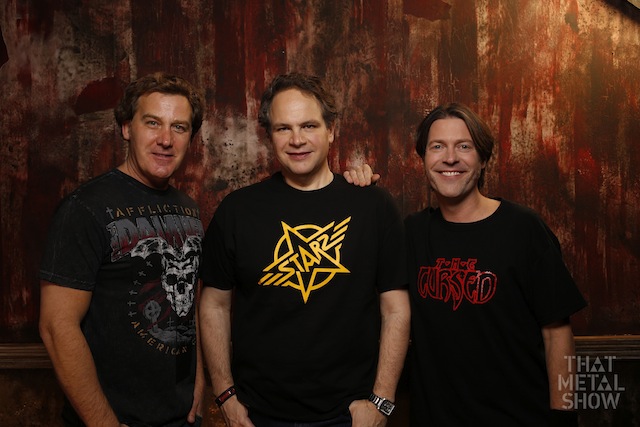 Michael Lello of HNGN spoke with That Metal Show hosts Eddie Trunk, Jim Florentine and Don Jamieson.Highlights from the interview appear below.
HNGN: What was your mindset heading into the first-ever episode of That Metal Show in 2008? Did you worry that it might not work?
Don Jamieson: Yes, we thought it might not work (laughs). And every time we get done with a season, we still think "Does this work? Is anyone watching, are we doing OK?" But our fans have been super loyal to us, and we're metalheads too, we're the same way.
Eddie Trunk: I remember the one thing for me that I was thinking of is, the way VH1 does their deals is that you have to sign a contract before you do a pilot that has everything in place assuming it gets picked up, so you don't just do a contract for a pilot, you do a contract for like four seasons. And I just remember thinking, "If this thing doesn't get picked up, all I'm left with is a big, fat lawyer bill," because it had to be fully negotiated out. But I had a history with this channel since 2002 and I had been pitching this show for like five years, so when we got to the point where we actually did a pilot, and I knew having Don and Jim attached to it – we were friends already – I felt pretty good that it was going to go, that unless we really fell on our faces we had a good chance to succeed.
HNGN: You've had some of the most famous people in hard rock and heavy metal sit in those guest chairs. But who has turned down your invitations?
ET: ….there's a couple [of] guys who've eluded us. The only people who won't do the show because of some sort of outstanding issues, whatever is in their head, is Gene Simmons and Paul Stanley [of KISS], and our door has always been open to them, but they're a little sensitive to stuff or whatever, and that's unfortunate because their fans watch this show and would love to see them, and hopefully one day they'll come around to do it. We've had the other two [former] members of KISS and we just do what we do. Again, the same thing for some reasons that aren't even truly clear, Ozzy won't do the show, but the other members of Sabbath have been on; we've had Bill Ward, Geezer Butler, Tony Iommi.
You can't worry about that stuff. Hopefully people come around and they figure it out and they realize that we're music fans, we're having fun, and we don't love every single thing every one of our favorite bands has ever done – very few people do – but we're real and honest about it, and the best guests are the ones that get that and come on and mix it up with us. Sammy Hagar and Michael Anthony [formerly of Van Halen]; Rob Halford [of Judas Priest]; Lars Ulrich [of Metallica]. We have so much fun with those guys.
Eddie Van Halen we'd love to have, but he doesn't do any press, practically. Jimmy Page [of Led Zeppelin] we'd love to have, but Jimmy's afraid of the metal tag, even though we've had a ton of like rock artists on. We've had Paul Rodgers [of Free and Bad Company] on, we've had Mick Jones [of Foreigner] on, we've had a very wide net.
JF: It would be perfect timing for Jimmy Page to come on with all the re-mastered Zeppelin stuff coming out. If we don't get him in this window, we're never getting him.
ET: Jimmy Page doesn't need us, but it would be nice if he came around.
HNGN: What was your first hard rock or metal concert? What was the best one you've seen?
JF: Mine was Black Sabbath and Van Halen at Madison Square Garden. Ozzy was still in the band, and Van Halen had their first record out. Best one was…I don't know. I've seen so many good shows over the years. Sabbath reunion in '99 at the Meadowlands was huge because I never thought they'd get back together, and Pantera was opening too.
DJ: The first concert I ever saw was Judas Priest and Iron Maiden at Asbury Park, Maiden opening on the Killers tour, Judas Priest on the Point of Entry Tour.
ET: I was there too.
DJ: We were all there and we didn't know each other.
JT: I got thrown out for throwing a smoke bomb during the encore.
DJ: So that was my very first concert, and the best one was honestly the Black Ice tour by AC/DC at Giants Stadium. I gotta say, man, two and a half hours, it just blew me away. I don't even want to go see AC/DC this time around, that show was just so unbelievable.
ET: I don't know if I could ever say a favorite, I could never narrow it down, but the first show I ever saw was certainly a favorite and was insanely impactful, and that was KISS at the Garden, Dec. 16, 1977. A band called Piper opened, which was Billy Squier's first band who I still love to this day, and here I am, KISS, the Alive II tour, I'm 13 at that point, and it was a game changer. I remember little parts of it, but that was the moment that just set me off on going crazy with rock music.
Read more at HNGN.