TESLA'S FRANK HANNON SAYS THEIR PHIL COLLEN PRODUCED ALBUM WILL BE COMING OUT IN SEPTEMBER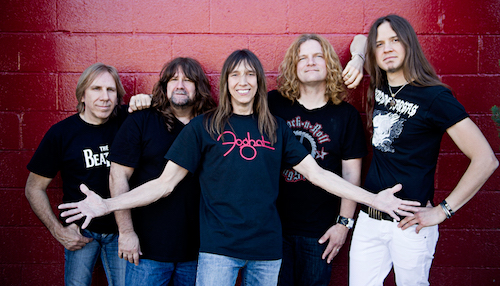 Greg Prato of the Long Island Pulse spoke with Tesla guitarist Frank Hannon. Excerpts from the interview appear below.
Long Island Pulse: The band has recorded an album with Phil Collen [of Def Leppard] as producer. When will it be released?
Frank Hannon: The last thing I heard is that it is going to be coming out in September. We've known Phil for years and we've always had a great relationship with [him] since the Hysteria tour back in 1987. We've had a 30-year friendship with the guys. When we were on tour with Def Leppard last year, Phil was really excited about having Tesla out there and was always coming into the dressing room and really exuded a lot of energy. The guy is in massive shape and he's a great motivator. He's like a coach. He was just motivating us to try recording on the road and writing songs together…All I can really say about the album is it was definitely a shot of adrenaline…and he inspired us to really try some new things.
Long Island Pulse: Tesla has most of the original members still in the lineup. What are your thoughts on bands from the era that tour with few original members?
Frank Hannon: Well, I've seen some recent articles and interviews with guys who put down bands that are missing a lot of their original members and I don't want to be that guy…For an older band, it's very difficult to keep original members together. I'm very grateful that Tesla has got four out of the five original guys, including the original singer [Jeff Keith], which is the key. Some bands have been very lucky to go out with different singers and still do it like Journey or AC/DC.
Long Island Pulse: The Styx-Joan Jett-Tesla bill is an unexpected combination.
Frank Hannon: To be honest, at first, I didn't think people would think that would be a good bill, but everyone has been very excited about it, especially with Joan Jett. I am a huge Joan Jett fan…but I don't know if she is a fan of Tesla or not. [Laughs] But we're huge fans of hers, so like it or not, we're going to be watching her show every night. I have nothing but admiration and respect for Joan Jett. Her songs are timeless. That's what it's all about. You were asking me about bands without their original members—to me, it's about the music and the songs…When a band can go out with only one or two original guys, it's the songs and the music that matter.
Read more at the Long Island Pulse.
source: lipulse.com