METALLICA PRODUCER FLEMMING RASMUSSEN DISCUSSES WORKING WITH THE BAND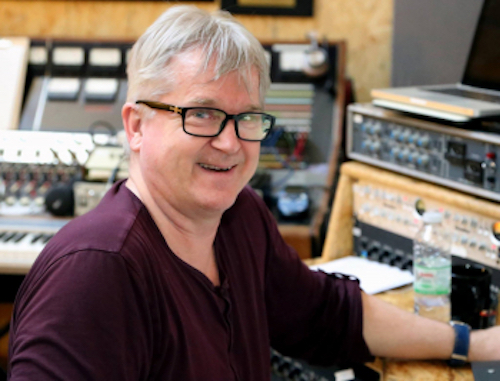 Greg Prato for Songfacts spoke with Metallica producer Flemming Rasmussen. Highlights from the discussion appear below.
Greg Prato (Songfacts): Looking back at the recording sessions for Ride the Lightning, Master of Puppets, and …And Justice for All, which songs were the trickiest to record?
Flemming Rasmussen: I would say some of the first songs on Ride. For Whom the Bell Tolls was the first song we ever did to a click track – that was kind of tricky. That was also Lars [Ulrich] learning how to play to a click.
No song really stands out as being the hardest to record – they all had their bits. And it's always the parts that you think would be easy that take forever, and vice versa. Like, the fast double-bass machine gun part in One, that was one take. He just flew straight through that.
Songfacts: How would you compare working with the band during the Cliff era to the Jason era, in the studio?
Rasmussen: It's a pretty big difference, because the Cliff albums [that Flemming worked on] were recorded in Denmark, and the Justice album we did in LA. So, it was like two different worlds.
I think Jason is a fabulous bass player, and I think the bass he plays on …And Justice for All was really up there… but nobody's ever heard it. [Laughs] Jason was a really good, tight, focused bass player.
Cliff fits in his own category. He was like a musician's musician, and he played by ear. You could have something he played that you went, Eh, and then the next time, it would be absolutely fantastic. So, with Cliff, it was waiting for him to get inspired and deliver. Everybody knew he could – especially everybody in the band – because we'd heard it so many times. Jason was more of a really solid, steady bass player that you knew you would give a really good performance.
Songfacts: What are your thoughts about the Justice album not having audible bass on it?
Rasmussen: I was as surprised as everybody else when I heard the mix. I had to decline doing the Justice album because I was booked elsewhere, and got into it after like, a month and a half [Metallica began recording the album with producer Mike Clink, and then eventually switched over to Flemming]. They had already gotten somebody else [Steve Thompson] to mix it. I had no hand in the mix, whatsoever. I know the guy who mixed it hated it because they turned the bass down so much. But that was all Lars and James [Hetfield].
Songfacts: What do you recall about the recording of the bell sound at the beginning of For Whom the Bell Tolls?
Rasmussen: That was an effect sound. When we were recording, we just stuck it in there. We had it on a piece of tape, we played the song, and we would go, "Now!", and punch it in.
For Whom the Bell Tolls is played to a click, and we edited in the bell effect so it would fit and be in tempo. I copied it and cut it in where it was supposed to come. So, once we got that tape started at the right spot, it simply played itself, and then dumped it into 24-track. [Slackers. AC/DC went to a foundry and had a huge bell made just so they could ring it on Hell's Bells.]
Songfacts: An interesting thought: How different would The Black Album have been if you produced it instead of Bob Rock?
Rasmussen: The Black Album is absolutely fantastic. They actually hired me to be stand-by, because of what happened with …And Justice for All. They started Justice with somebody else, and had to call me in. So, they wanted to make sure if it didn't work out with Bob Rock, I would fly over there the next day. I actually took a month off – on Metallica's tab.
Read more at Songfacts.
source: songfacts.com