TED NUGENT DISCUSSES HIS LOVE OF MUSIC, DISDAIN FOR THE ROCK HALL AND DAMN YANKEES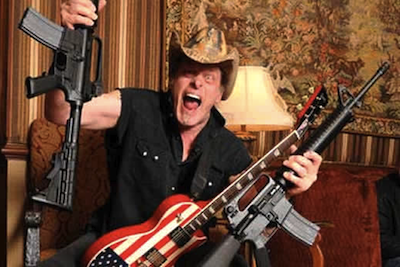 Ruben Mosqueda for KNAC.com spoke with guitarist Ted Nugent. Portions of interview appear, below.
KNAC.com: Ted you have a new album, The Music Made Me Do It….
Ted Nugent: [laughs] I have a feeling that, the music makes you do what you do, doesn't it?
KNAC.com: Ted, over the years a number of your contemporaries have drifted away from the idea of a new album, mainly because albums don't sell like they used to.
Ted Nugent: And rightly so.
KNAC.com: Have you ever considered throwing in the towel, in terms of recording new music? It seems like you could tour like you have been doing for decades and not issue new music and still do pretty well for yourself.
Ted Nugent: There's a number of things at play here. First of all I think the title of the record says it all. I play my guitar everyday, to this day the music still makes me do it. I'll be 70 years old next month, I'm still like a horny 12th grader with my guitar and my loud amp, playing it at maximum volume, while mom and dad aren't around. That's the God honest truth. [laughs] I still have that primal scream alive in my gut, in my balls, in my soul and in the fingertips. I love guitar grooves and punishing riffs. I still get an erection when I hear George Harrison playing that lick on Paperback Writer. Or that "fuzzy" guitar tone on [The Rolling Stones'] Satisfaction or an AC/DC song…
…I'm going to tell you something in a second that will dazzle you and ultimately answer your question. No, I have never been deterred. I have acknowledged the atrocity of the current music industry, where you have the same songs with the same three chords in them. And the little girl singers and the same old country bulls–t music/ Jesus! It if wasn't for Dave Grohl, I'd go on an assassination tour of people who make shi–y music! [laughs] I'm obviously being silly, but I'm angry like you that there's no new AC/DCs, Aerosmiths or Van Halens, because there's no incentive. You don't spend half a million dollars to make a record so people can have it for free…My point here is that the music still makes me do it. Thankfully, I have the stimuli to create and record these songs and it will not be stopped. I also understand the logistics of capitalism, I can't pay my band if I can't make money off the product that we make together. These guys are worth a lot of money and I have to make sure I make enough money to be able to pay them. Greg and Jason, those two guys probably would do it for nothing. [laughs] They love it like I do, but that wouldn't be fair…
Ted on being snubbed by the Rock N' Roll Hall Of Fame:
"I will speak on behalf of music lovers, not on my behalf, I'm not hurt personally one bit. The music makes me do it, not the hall of fame, not the stardom, not the celebrity, not the money, the music makes me do it. This is a catastrophe of politically correct dishonesty. You can't not have a band like Styx in there and have Madonna in there. That's a lie. You can't not have Ted Nugent in there but have Patti Smith and Grandmaster Flash. That's just a lie. That's not even my opinion, if you put together a team of people from all genres straight across the board and have them find one person that could explain how in 2018 Patti Smith is in the Hall of Fame but Ted Nugent isn't?! I'd love to hear that explanation. [laughs].
KNAC.com: People are still very much interested in some kind of a Damn Yankees reunion either in new music or "one off" performance. It must be pretty gratifying to know that people still have a lot of love for that band.
Ted Nugent: Oh, I see it on Facebook everyday, I communicate with thousands to hundreds of thousands of people, at times millions of people. I take that as musical celebration of the music that I have created throughout my life. The Damn Yankees experience was a 100% joyous musical outrage, which I loved every greasy, grimy minute that I loved every second of. When people clamor for it, I get moved, Jack [Blades] and Tommy [SHAW] speak on a regular basis, we're hoping like hell that we can get into a room together again, the only word I can use for what it's like when we're together is "magic…" I'm out doing my thing and Styx and Night Ranger tour regularly, so who knows when it will happen? I can say this, we were all raised with that great rhythm and blues, soul and funk music, we're more or less paying homage to those musical impirations. I wouldn't be surprised if we get together soon, before we get too much older, I hope it's not before we get too much older. Tommy is everything you'd want in a friend, an American, and as a musician, the same goes for Jack and [drummer] Michael [Cartellone]. I can say the same for all my guys. How lucky am I?
Read more at KNAC.com.
source: knac.com